The following post was provided by Dillon. The Dillon product line is one of the oldest and most respected in the field of industrial measurement. For years, Dillon has led the way by creating an innovative line that is tough, reliable and most importantly, safe.
​Introducing the New Quick Check-T From Dillon
As an industry-leading provider of load monitoring and force measurement products, Dillon is happy to announce their new Quick Check-T tension meter for use on all line tension measurement processes. Providing quality measurement devices for tension, compression and push/pull forces for industrial environments is a top priority for Dillon, and the Quick Check-T delivers on all fronts.
The Dillon Quick Check-T Makes a Difference
The Dillon Quick Check-T tension meter makes a difference. It reduces time on the job site by eliminating the need for whiteboards, changing sheaves, and the need for charts to figure out target tensions. It also reduces time off the job site by having automatic site form completion, with image and direct complete reports.
Some Key Features Include:
Bluetooth® enabled
Custom mobile app
Multi-wire single sheave
Calibration check rod
Automatic report generation with photos
Automatic target tension calculations
Ability to capture pre and post tension readings
Inbuilt image capture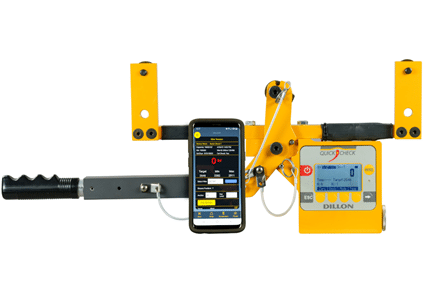 On top of all these features, Dillon's new Quick Check-T offers more versatility than any other tension meter. It comes equipped with a special IP 67 carrying case with load bearing up to 140 lbs., resistance to temperatures as low as -4° F, and a streamlined pressure balance valve.
The Dillon Quick Check-T In Action
The Dillon Quick-Check is ideal for situations where guy wire tension must be measured quickly and accurately. The tension meter can be placed on a cable, take a measurement, and be removed in under five seconds, with no complex lookup tables or conversion charts.
The operator can also quickly select from 20 pre-calibrated wire sizes and types stored in the Quick-Check's memory, speeding up the process significantly. The addition of a graphic display, which clearly shows the current and target tension control limits in real-time, enables extremely quick setting of line tension.
Adam Fear, Vice President at Branat Construction and longtime user of the Quick Check-T, explains, "It is important to measure guy wire tensions to ensure that the tower is in compliance with Telecommunications Industry Association (TIA) standards. It also ensures that the engineered structural analysis on the tower is accurate. Often a tower can be brought within acceptable capacity by simply adjusting the guy wire tensions as opposed to adding additional steel to the structure."
Adam continues, "The Dillon Quick Check is the number one established brand in the industry and anyone who does guy wire work usually has one. If you are actively adjusting the guy wire tension, it is a huge time saver to have a read-out of the tensions – and you can actually watch the tension drop/increase on the screen in real-time as you adjust the turnbuckles. For this reason, the quick check can easily cut your time in half."
Scores of customers just like Adam have reaped the benefits of using the Quick Check-T for all guy wire tension readings. These processes are essential in the safe construction and maintenance of cell towers, which have seen dramatic growth due to the recent increased demand for wireless and broadcast communications across the globe.
Dillon On the Job
Dillon force measurement equipment is the preferred choice of public utilities, nuclear facilities, tower erectors, armed services, and material handlers throughout the world. With Dillon's high accuracy mechanical line of Quick Check tension meters, you'll get an exceptional value for both basic and complex applications.
Contact your nearest Michelli Weighing & Measurement location for more information on the Dillon Quick Check-T!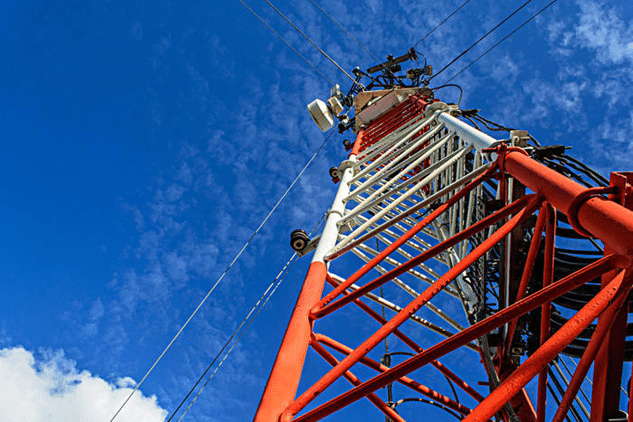 Request a quote for your new Dillon tension meter today
Contact your nearest Michelli location to speak with your local Account Manager about a Dillon Quick-T Tension Meter Today.