Aerospace
Precision instrumentation & accredited calibration services you can trust for aerospace measurement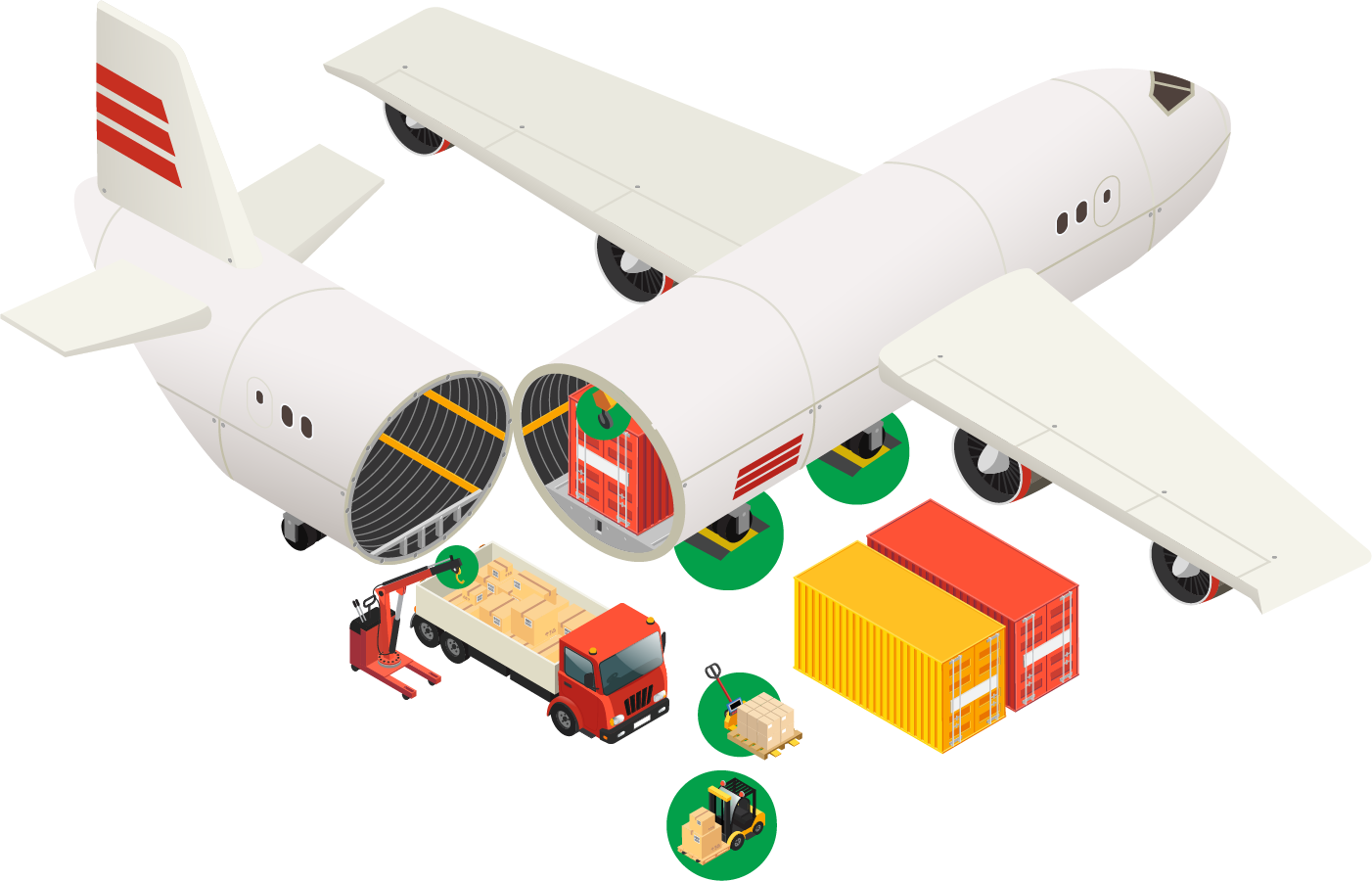 Weighing & measurement equipment is highlighted in green in the photo above.
Aerospace Measurement Equipment
Highly precise aerospace measurement equipment is used to help ensure that an aircraft meets exact specifications and is capable of flight. Weighing & measurement is incredibly important within the aerospace industry for both aerodynamic considerations & safety reasons.
Scales can be used to help ensure that an aircraft remains under a maximum weight capacity, which will establish the maximum weight at which the aircraft can safely remain in the air. Physical/Dimensional (or "PhysD") measurement equipment is used to verify & meet exacting standards, ensuring efficient and safe performance is achieved.
Heavy capacity scales in Aerospace Measurement
In terms of heavy capacity aerospace measurement equipment, high capacity scales that are typically used include axle scales, wheel weighers, crane scales, truck scales & more. This equipment is used both during and after assembly of an aircraft. 
Aerospace measurement equipment is used during production of an aircraft to weigh parts & components. Some equipment is designed specifically to increase efficiency. For instance, crane scales are meant to allow workers to determine weight without interrupting operations.
After production, heavy capacity scales might be used during cargo loading or removal. For instance, trucks carrying cargo to the planes, or containers away from planes, may run across a truck scale to determine weight. A crane scale may be used during cargo loading or removal to determine how much cargo an aircraft can carry.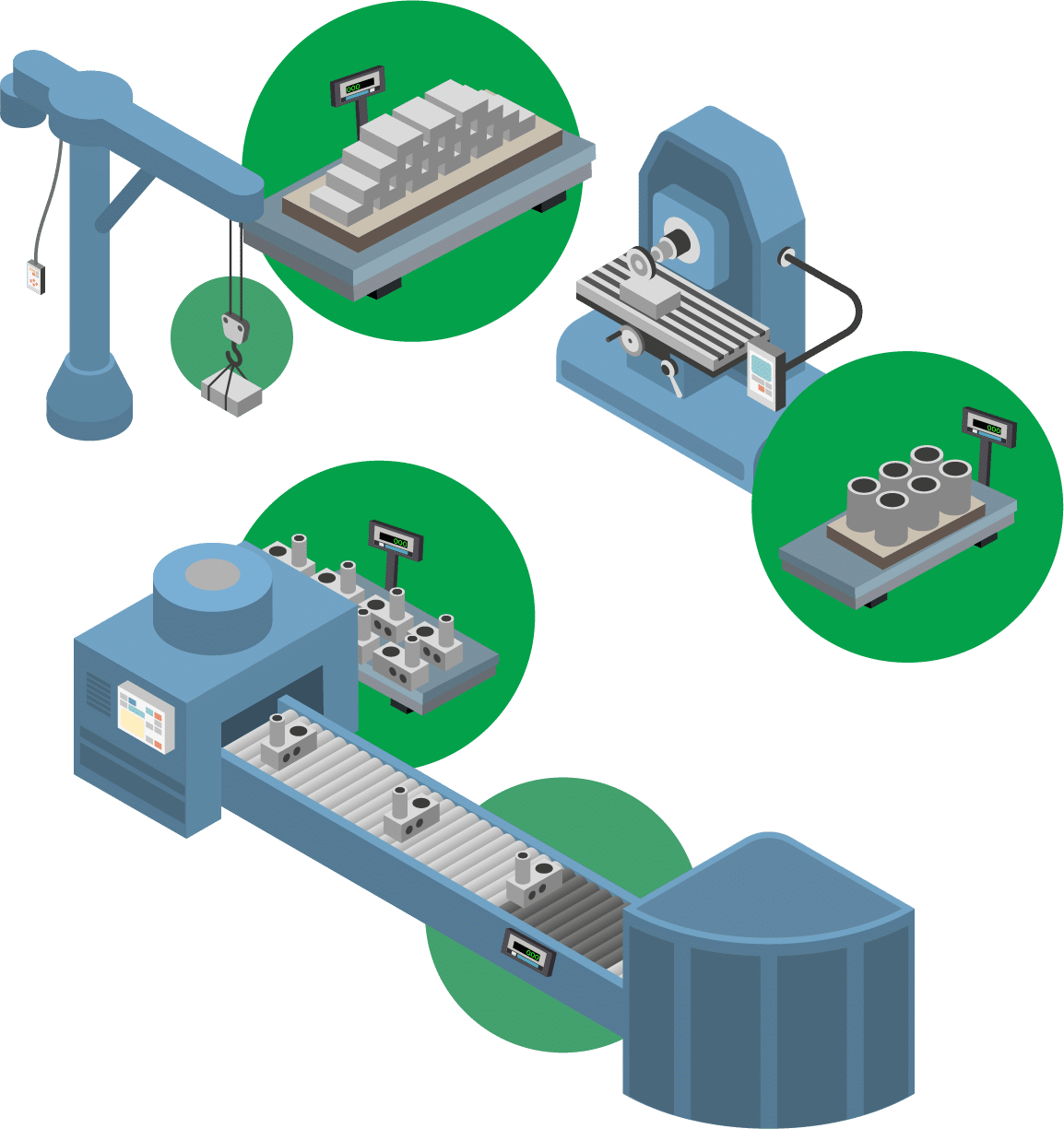 Weighing & measurement equipment is highlighted in green in the photo above.
Talk to an expert today
Dependable equipment sales, rentals & service
Medium capacity scales in Aerospace Measurement
Along with heavy capacity scales, aerospace measurement equipment includes medium capacity scales, which are also used both during & after production. For example, parts may be weighed before & after paint is applied during production, to ensure the total weight of the aircraft remains under the maximum capacity.  
After production, cargo may be weighed several times before being loaded onto an airplane. Pallet jacks are often equipped with scales. Forklift scales are also commonly utilized in the aerospace industry. Pancake scales are another common piece of weighing equipment used in the aerospace industry.
Precision Instruments in Aerospace Measurement
Aerospace measurement equipment also includes numerous types of precision measurement tools. Precision measurement instruments, like torque & bolting tools, micrometers, calipers, and pressure gauges are incredibly important during both the design & the production phases of aircraft development. Physical & dimensional tools, force measurement tools & other precision instruments can help ensure that all of the components contained within an aircraft are manufactured to the correct dimensional requirements. 
Proper pressure gauge, torque & bolting tool calibration is imperative to allow an aircraft to withstand G forces & other special circumstances. Quality precision instruments are incredibly important to ensure the work performed with the instruments is done safely. Maintenance & regular calibration of these instruments is equally as important as instrument quality, and helps to ensure the reliability of the instruments.
We Can Help With More Than Scales…
Have you considered a weighing system, or the integration of stand-alone measurement systems into larger, enterprise level systems? Michelli offers custom software development to allow for things like on-board weighing, data collection, and even bulk loading.
From increasing safety in the workplace, to expediting your measurement processes, our systems can be designed to fit a wide variety of needs. The results could save you money, decrease risks & increase productivity.
Learn more on our weighing systems page, or contact a specialist near you today. 
Ensure accuracy, reliability & longevity with preventative maintenance
Michelli offers preventative maintenance programs designed specifically to meet your stringent quality requirements.
Regular maintenance keep operations running smoothly. Our highly skilled technicians will meet with you to help develop a calibration schedule based on your environment & application.
Save money with a service agreement
Our service agreements are designed to save you money & keep your equipment running at peak performance with regularly scheduled maintenance. 24/7 Call-out services are also available to our service agreement customers, so you can rest easy knowing you've got round-the-clock support.
Michelli Weighing & Measurement locations are members of ISNetworld, PICS, PECS, DISA, and various local reciprocal safety councils.
How can accurate weighing & measurement equipment help the aerospace industry?
Ensure Quality Control
Minimize product variation with multi-point measurement
Enhance Tracking
Seamless inventory & cargo tracking on the gos
Improve Workflow
Increase productivity without interrupting operations
Increase Efficiency
Utilize set points to streamline bulk packaging of parts
Minimize Safety Risks
Ensure products meet exact specification every time
Initiate Programmable Logic
Automate workflows to improve quality & efficiency
Products
Light, Medium & Heavy Capacity available
Crane Scales
Truck Scales
Axle Scales
High Precision Counting Scales
Forklift Scales
Checkweighers
Laboratory Balances
Pancake Scales
Weighing Systems
Added functionality & productivity
Data Tracking
Conveyor Scale Systems
Set Point Systems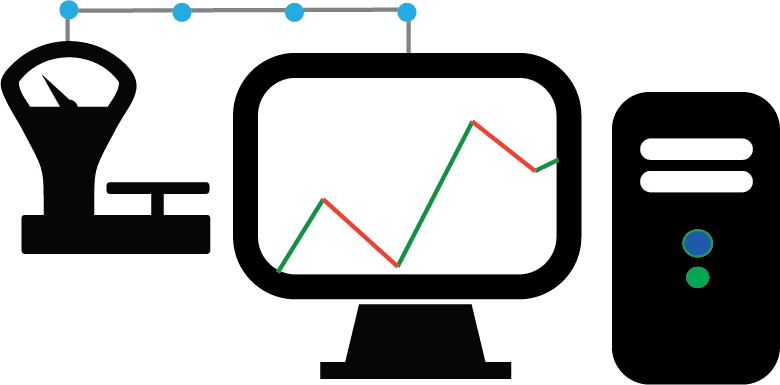 Michelli Offers Custom Programming for the Aerospace Industry
Turn your scale into a multi-tasker and increase productivity.
Some examples of programs we have created for the aerospace industry include:
Conveyor weighing programs enable in-motion weighing
Quality control systems ensure component uniformity
PLC automation programs increase productivity
Let's discuss your application & ways weighing & measurement could help to simplify your process.
Enhance Quality Control & Ensure Safety
24/7 call-out service is available as an option with a Michelli service agreement. Contact us today to learn more.