Environmental Calibration Services
Environmental calibration services help to ensure that precision measurement devices used to measure environmental conditions provide accurate results. These devices might be used to measure velocity, humidity, temperature and other environmental factors.
Michelli Weighing & Measurement offers both standard calibration and ISO 17025 calibration on a wide range of environmental measurement devices. From anemometer calibration to temperature measurement device calibration, our technicians can help. Don't risk the quality of your readings, let the experts at Michelli Weighing & Measurement ensure the accuracy of your precision measurement devices.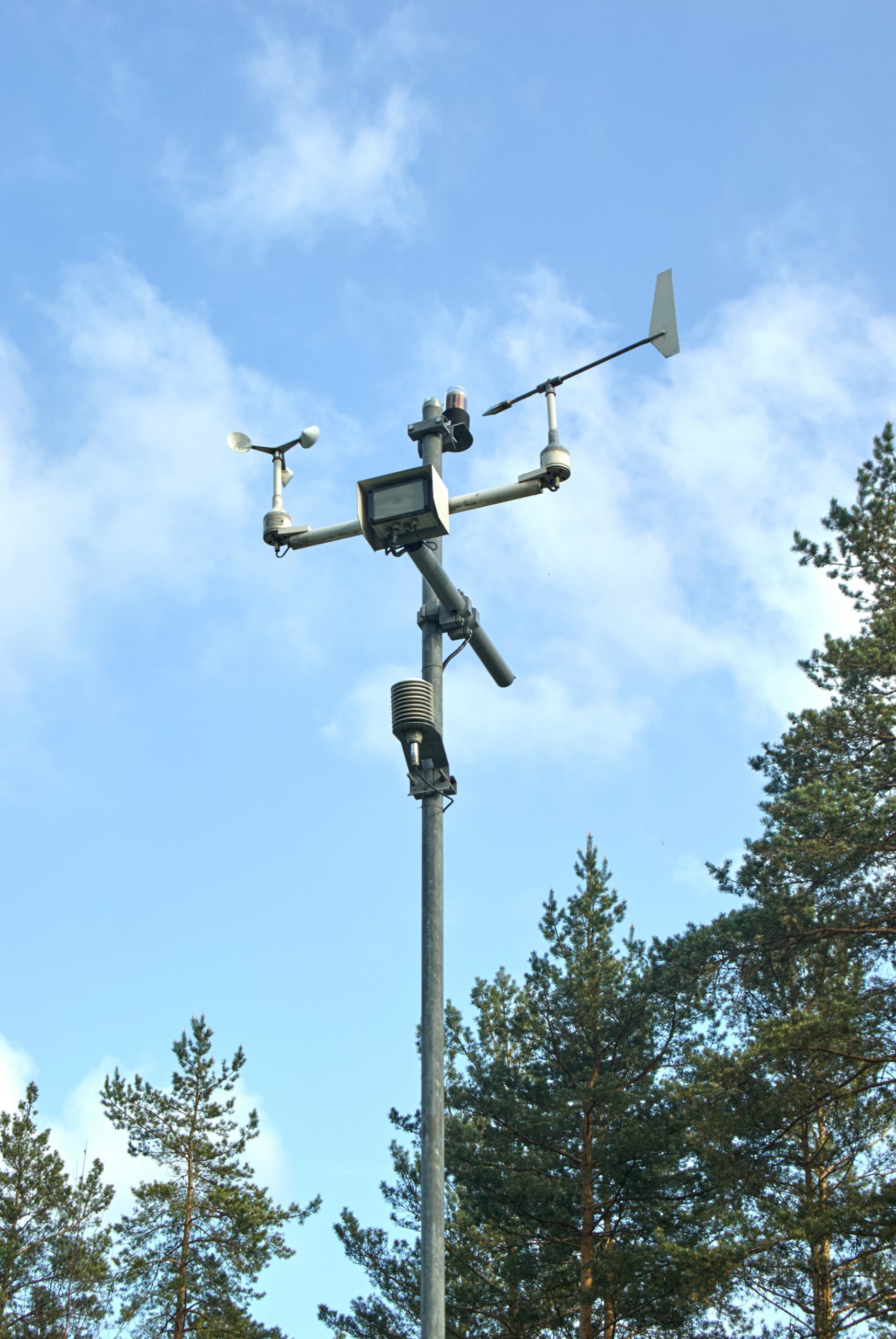 What is environmental measurement?
Environmental measurement refers to the practice of measuring environmental factors. For example, there are times when we need to measure wind speed, pressure, temperature, or humidity. In each of these situations, a different type of precision measurement device must be used to produce accurate readings. Some of these devices include vane anemometers, thermometers, and pressure meters. Occasional calibration is required in order to ensure that these devices produce accurate measurements.
This type of measurement is used in every day life. Driving across a bridge may not be safe if the wind speed is too great. In order to determine when to close the bridge, the officials overseeing safety of the bridge might use an anemometer to gauge wind speed.
Another way environmental measurement is used daily is in food manufacturing applications. If a food storage area is too humid, the food may mold, risking the health of anyone who consumes it. Food manufacturers might use a humidity meter to ensure optimal conditions within the storage area as a quality assurance measure.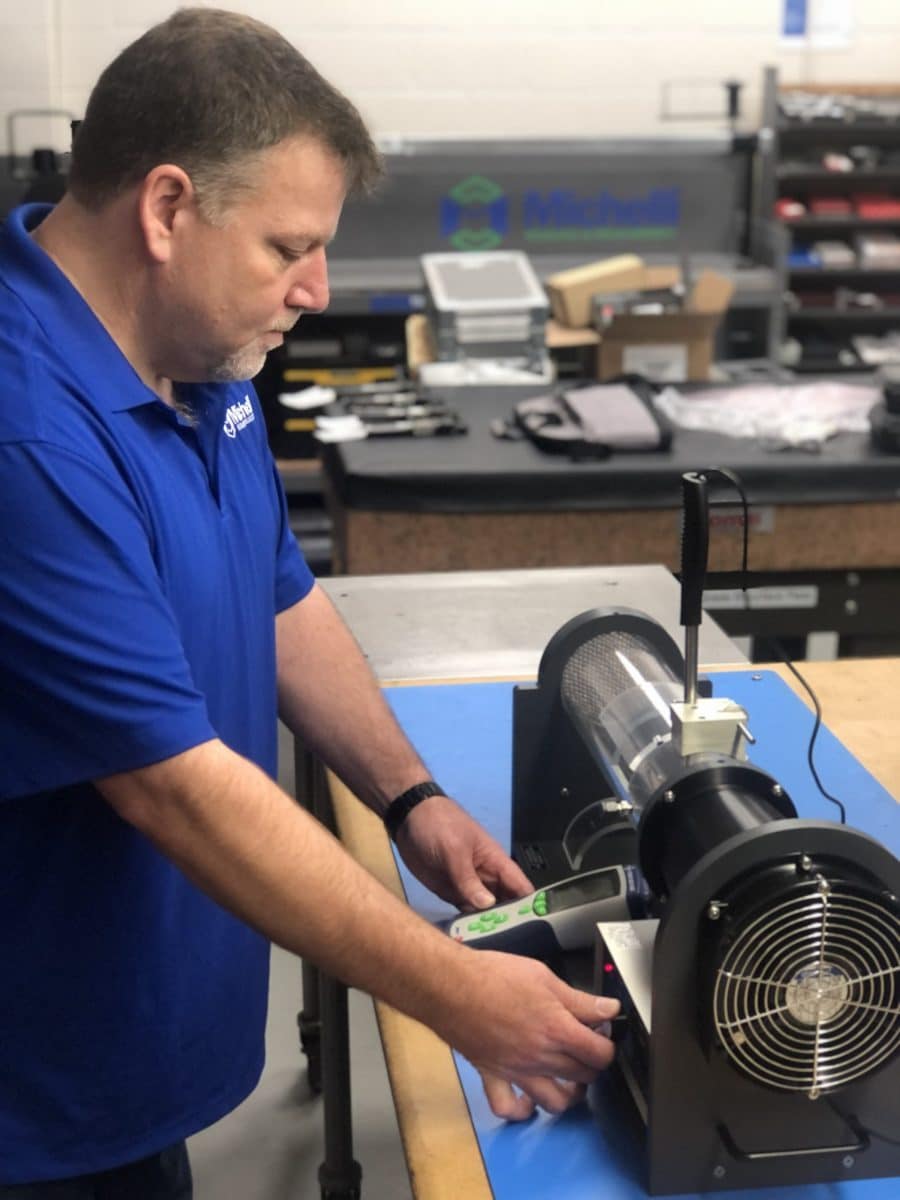 What does environmental calibration entail?
During environmental calibration, the measurement device being tested is compared to a naturally occurring physical constant, (e.g. Triple Point of Water) or a standard that produces a known value. The test device is then calibrated, or adjusted accordingly, to the standard, so that the measurement it produces matches the known value of the constant or standard. Our standards are certified traceable to the SI Units through a National Metrological Institute such as NIST, meaning that the values produced by the standard are within the stated tolerance of accuracy.
For example, let's imagine that a vane anemometer is placed inside of a certified wind tunnel calibration unit. If the wind tunnel is set to produce wind speeds of 150 mph, a properly calibrated anemometer should produce readings of 150 mph. If the anemometer does not read 150 mph when it is tested, it will be adjusted until it does. The anemometer would be tested at multiple speeds to ensure its accuracy, as outlined in its associated calibration procedure.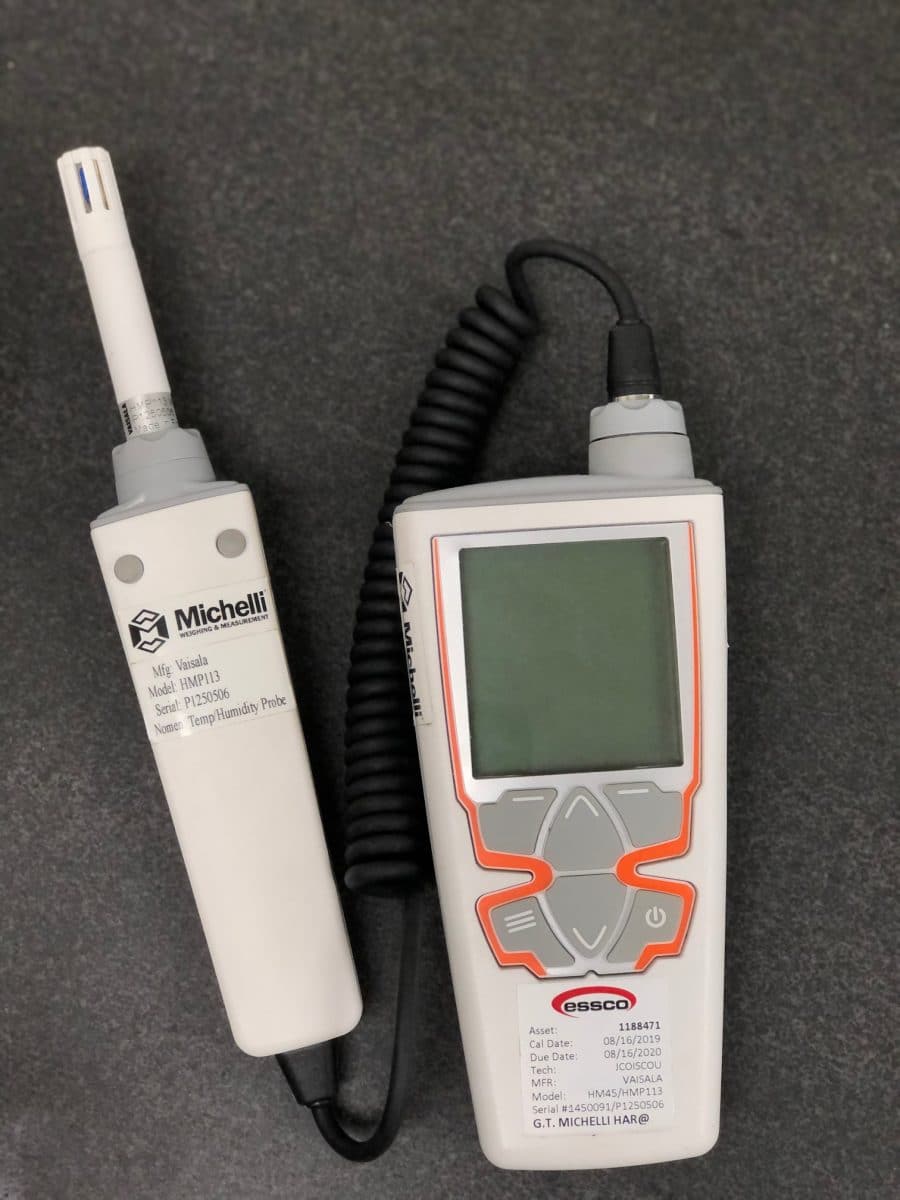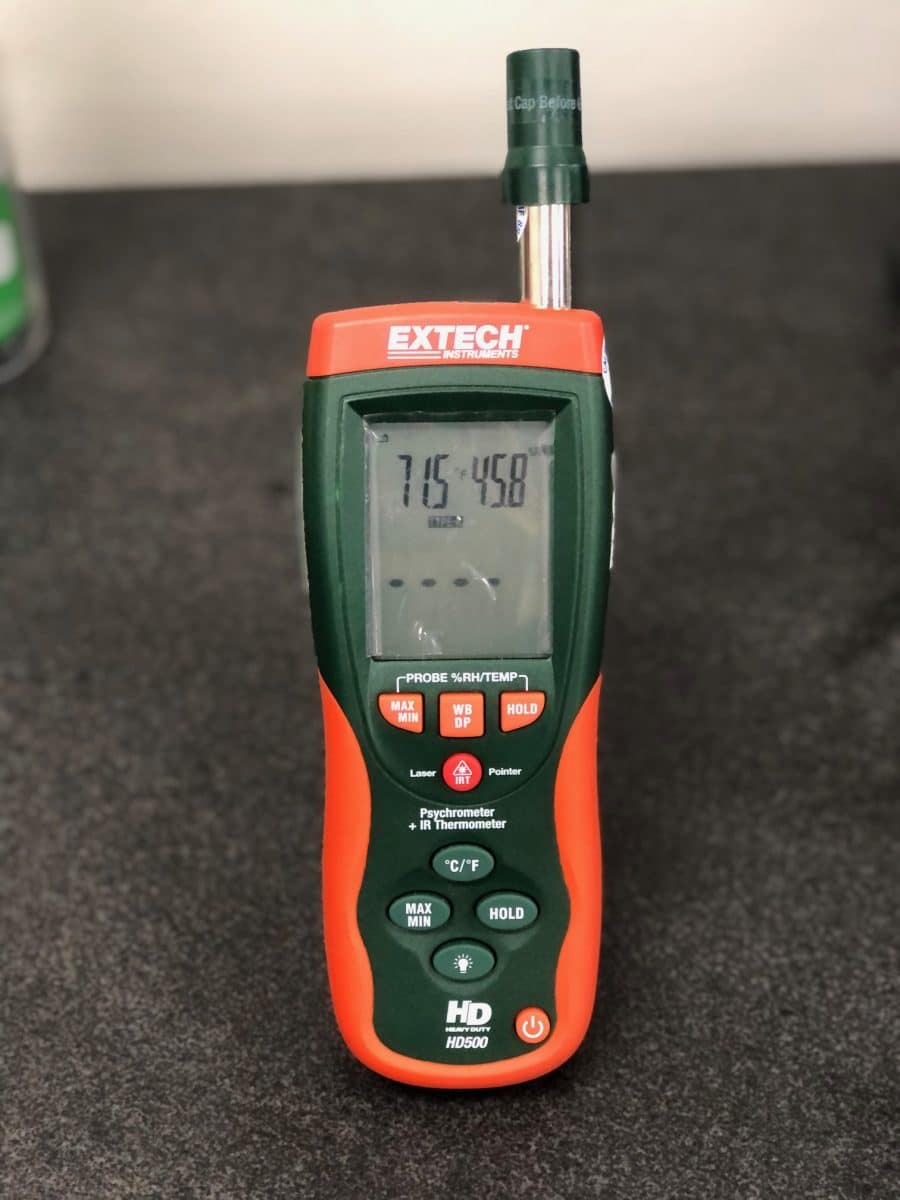 Michelli Weighing & Measurement offers environmental calibration of the following measurement devices:
| | |
| --- | --- |
| Hot-Wire Anemometers | Vane Anemometers |
| Chart Recorders | Dataloggers |
| Temperature and Humidity Chambers | Digital Hygrometer & Thermometers |
| Benchtop Temperature and Humidity Chambers | Hygrometers |
| Psychrometers | Autoclaves |
| Temperature & Humidity Monitors | Temperature & Humidity Indicators |
| Bi-Metal Dial Thermometers | Data Logger Thermometers |
| Digital Oral Thermometers | Digital Psychrometer |
| Digital Thermo Hygrometers | Digital Thermometers |
| Dry/Block Well Calibrators | Dual Mode Thermometers |
| Freezer Thermometers | Gas Thermometers |
| Heat Meters | Hygro-Thermometer Clocks |
| Incubator Thermometers | Indoor Outdoor Thermometers |
| Infrared Digital Thermometers | Liquid-Filled Glass Thermometers |
| Probe Digital Thermometers | Pyrometers |
| Temperature Calibrator Thermometers | Temperature Controller Thermometers |
| Temperature Gauges | Temperature Indicators |
| Temperature Monitoring Systems | Temperature Panel Meters |
| Temperature Recorders | Temperature Sensors |
| Temperature Transducers | Temperature Transmitters |
| Temporal Thermometers | Environmental Chamber |
| Thermocouple Data Loggers | Data Recorder Pens |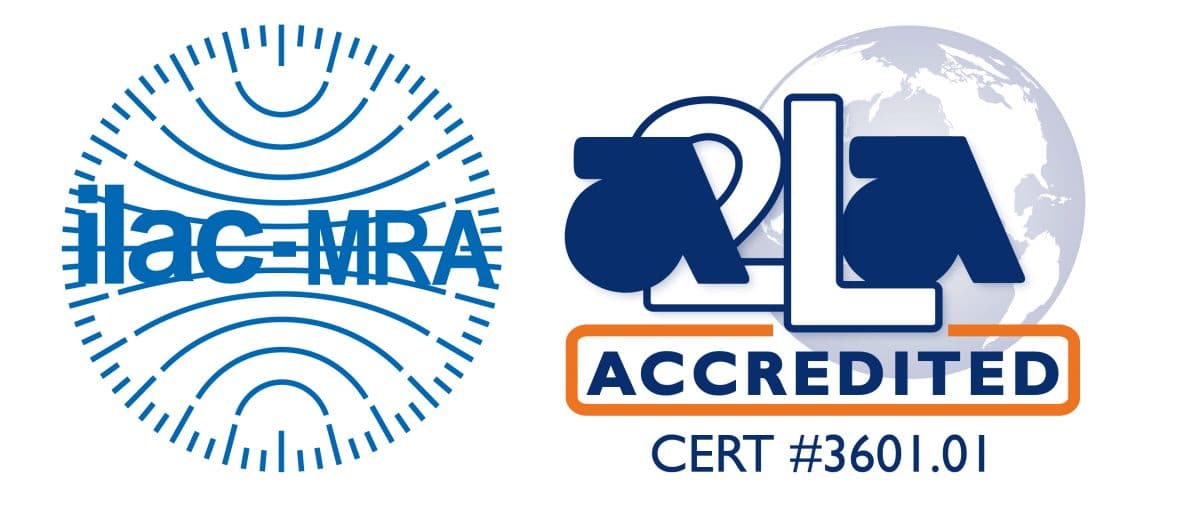 On-site environmental calibration is available for some precision measurement devices. Please contact your nearest Michelli Weighing & Measurement location to ask about specific devices.
Need to purchase new environmental measurement equipment?
Contact us today to request a quote.
Do you have questions about environmental calibration? We can help with that too. Contact your nearest Michelli Weighing & Measurement location to speak with an environmental calibration expert.
Interested in shipping your equipment in for calibration?
Please download our easy-fill equipment list here, print and ship it with your equipment to your nearest location. (Addresses available here.)