The following post was provided by Avery Weigh-Tronix, our featured manufacturer this month. Avery Weigh-Tronix designs & manufactures a wide range of high quality weighing scales, systems, software components and peripherals for industrial and business use, and has done so for 200 years.
Food Processing Equipment Designed with Food Safety in Mind
When it comes to the food processing industry, fast and accurate weighing technology has become more important than ever. With increasing strictness of food safety and processing standards, food processors need efficient weighing systems that can be easily maintained for maximum hygiene. Because food processing plants are often the perfect breeding ground for microbiological contaminants, hygienic processing solutions are an imperative element of these systems. The last thing you want is an outbreak of contaminants in your plant, which can pose a serious threat to your customers' health and to your company's credibility.
Easy to Clean Design for Hygienic Food Processing
In a world facing constant threat from the COVID-19 pandemic, hygienic food processing solutions are even more essential. With over 250 years of industry experience, Avery Weigh-Tronix offers cutting edge solutions to the issues being faced in today's markets. The ZM and ZQ series of checkweigher scales are perfect for accurate and precise data capture, while offering an easy to clean design that eliminates bacteria traps and build up of contaminants. Avery Weigh-Tronix designs these products (and others) with their customers in mind, drawing upon the latest research and technology from around the world to deliver a specialized range of high-quality weighing systems that are second to none.
Taking a closer look at the ZQ375 checkweigher, you'll find a scale ideal for nearly any food processing application, designed to meet the latest NSF/ANSI 3-A food safety standards. "During our partnership with Michelli, our instrumentation ranges have evolved into our latest ZM series. This utilizes some of the latest technology and components used in the market today. When developing the Z series, a lot of effort was put into the designing stage to eliminate unplanned components failure. Our goal was to utilize only high-quality componentry to help reduce unwanted failures," explains Darren Waplington, Product Manager at Avery Weigh-Tronix. In addition to these cutting-edge features, the ZQ375 also provides IP69k protection, which allows it to effortlessly withstand rigorous high-pressure steam/water cleaning up to 176° F/80° C at 1160-1450 psi/80-100 bar; ideal to guarantee all surfaces are bacteria and virus free after cleaning.
The ZQ375 was designed specifically for use in the food processing industry, equipped with a robust food-safe NSF-approved base design that enables it to work at speeds that deliver stable and accurate weight readings under 0.5 seconds. Its full range of time-saving software features will improve daily throughput while reducing operator fatigue.
The ZQ375 Checkweigher – Equipment that Works Smarter
With Michelli's help in distribution, Avery Weigh-Tronix helped one of its clients that required a very accurate static checkweigher set up in a critical area of their process line to monitor and check that the product remains within the correct weight tolerance. This required regular checks every 15 minutes by the machine operator. While the operator conducted regular checks and adjusted the equipment when needed, the client also required their quality team to capture this data. However, the equipment's position in the production line and the hygiene requirements made it expensive to install new data transfer lines. This issue was easily solved with the ZQ375 checkweigher by utilizing its onboard data storage and the built-in USB port. This allowed the data to be fully captured by the operator and automatically stored inside the scale. The quality team could quickly download this data without stopping or slowing down the production line.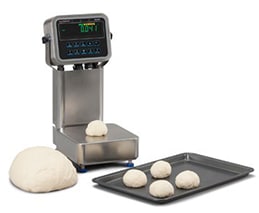 Avery Weigh-Tronix will continue to deliver and improve its food processing equipment and software application packages to make them even more accurate and reliable, working in tandem with Michelli to meet the growing needs of customers everywhere.
Want to learn more about Avery Weigh-Tronix Food Processing Equipment?
Contact your nearest Michelli Weighing & Measurement office today. One of our product specialists can show you Avery Weigh-Tronix weighing equipment designed with food safety in mind, and help you decide what equipment is right for your application.