The following post was provided by Avery Weigh-Tronix, our featured manufacturer this month. Avery Weigh-Tronix designs & manufactures a wide range of high quality weighing scales, systems, software components and peripherals for industrial and business use, and has done so for 200 years.
A Forklift Scale System Can Help You Maximize Efficiency
Mobility, Productivity, and Safety are three critical factors to the success of any material handling operation.  Forklift trucks are used to fulfill the essential task of moving goods from point A to point B. These forklift trucks are durable, reliable and more than capable of surviving the rigors of a 24-hour operation. They can add to the efficiency of the overall operation, but they are not designed specifically to reduce the operational costs or to facilitate management control. That can change with the simple addition of the Avery Weigh-Tronix forklift scale system.
The Advantages of Adding a Forklift System
Adding a forklift scale system to your business turns the forklift truck into an efficient mobile weighing solution. This solution allows for the integration of data management and weighing into the day to day operations, without adding any extra steps or routine changes. This means you protect your revenue while maximizing efficiency. Installing an Avery Weigh-Tronix forklift scale is safe, fast, and simple without any physical modifications to the forklift truck such as welding or drilling.  The forklift scale is mounted directly on the front of the forklift truck carriage and a digital weight instrument is placed in the cab of the forklift. This setup allows the driver to clearly, easily, and safely operate the scale system without interrupting their normal routine.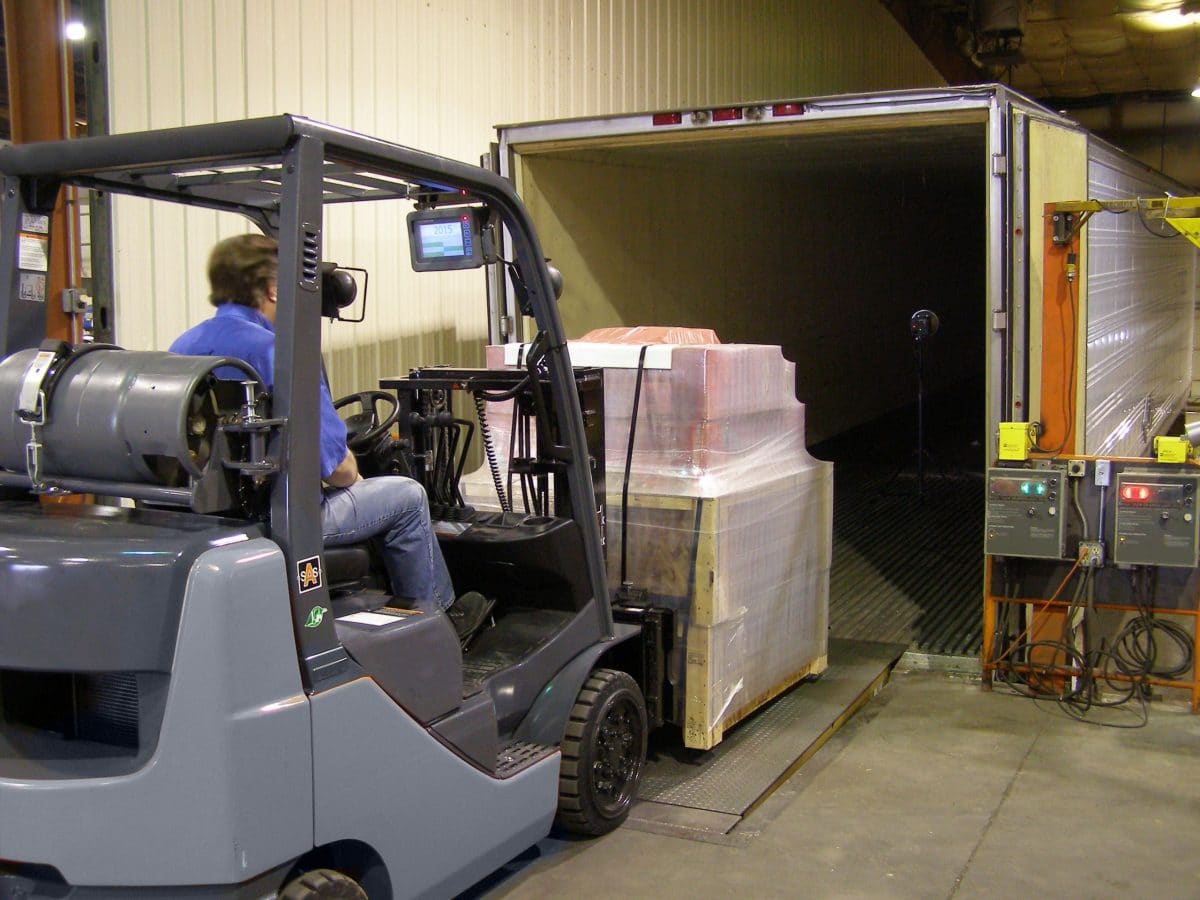 Avery Weigh-Tronix Forklift Scales Are Durable
Avery Weigh-Tronix forklift scales are built with the tough warehouse and material handling environment in mind to keep up with the demands of uptime and longevity. Its solid single-piece construction, projects a longer life, that is much less susceptible to damage with having no parts to bend or break under strain and no moving parts to adjust. This singular structure, in turn, helps businesses save on the cost of service, repair, and reduces downtime. Furthermore, the system monitors the orientation of the scale and maintains accurate weight readings even if the forklift truck is on unlevel ground, the mast is tilted, or the pallet load is off center.
An Avery Weigh-Tronix Lift Truck Scale System Can Help Increase Safety
The instrument for the forklift scale system not only provides an accurate weight readout, but also a means to ensure safety in different forms. For the driver, it can alert when the load on the forks is over its rated lifting capacity of the forklift truck. It also allows for weight tracking while loading trailers to ensure they are not overloaded per road regulations.
Forklift Scales Increase Productivity
Productivity is noticeably enhanced when the driver of a forklift truck is equipped with a forklift scale system. The time that it takes to transport goods to the stationary floor scale then back to its next destination, is eliminated. More importantly, they make it much simpler for the drivers to verify the materials at the point of unloading whilst still conducting their daily routines.
Is an Avery Weigh-Tronix forklift scale system compatible with your lift truck?
Forklift scale system can be matched to any truck in the fleet, regardless of model or make. Avery Weigh-Tronix offers forklift scales for LP or Electric forklift trucks, ITA carriage class II model FLSC up to ITA class IV model QTLTSC, 5,000 lb up to 16,000 lb in capacity and carriage widths ranging from 26" up to 72". The application of the forklift scale can be used for legal for trade where the design delivers 99.9% accuracy and for those who do not need legal for trade Avery Weigh-Tronix offers non legal forklift scales model QTLTS.
Instruments can enable the forklift scale system to be simple as needed using the FLI-225 instrument or the advanced FLI-425 to assist in the day to day business operations collecting records on the go and transmit to back office setup. Technology is available to interface directly in to existing mobile devices utilizing any operating system without the need to install additional software.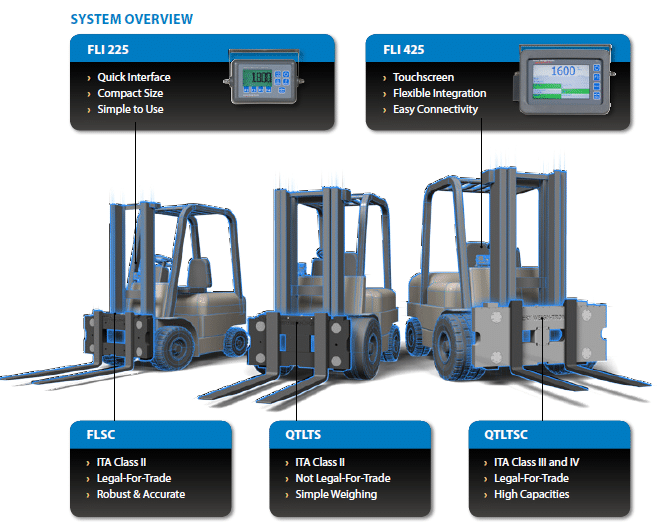 Ready to increase efficiency with your own forklift truck scale system?
Request a quote today, and your local Michelli Weighing & Measurement expert will provide you with options to make sure you get the right Avery Weigh-Tronix equipment for your application.