The following post was provided by Minebea Intec, our featured manufacturer of the month. With more than 147 years experience Minebea Intec provides products, solutions and services to the process industry for increasing the reliability, safety and efficiency of production and packaging lines.
Batching & Formulation Weighing Systems
Safe & precise solutions for the production process
Specifically designed for industrial use: Minebea Intec supplies professional batching and formulation solutions ranging from manual to fully automated applications. High-performance software and precise electronics guarantee reliable production processes, reduce incorrect quantities and ensure seamless traceability all the way back to the raw materials used.
From manual to fully automated batching solutions
Minebea Intec provides high-quality solutions for a broad range of batching and formulation tasks. From manual and semi-automated manual formulation to one-component filling right through to fully automated multi-component batching systems. Minebea Intec's wide range of industrial scales, load cells, electronic weighing systems and high-performance software applications and systems enable use in many industries and almost all application environments, even potentially explosive areas.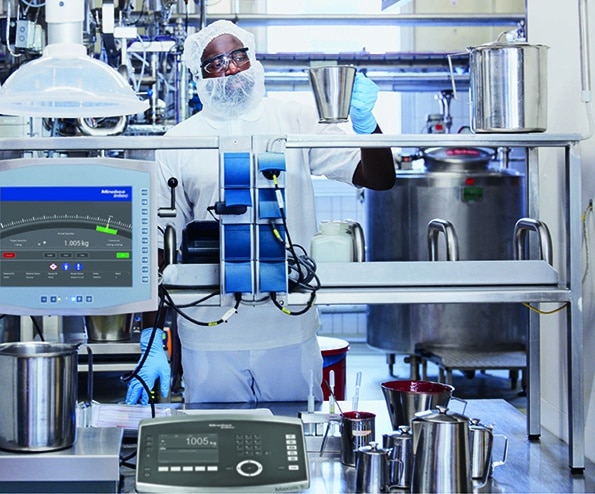 There are a number of benefits to Minebea Intec's batching and formulation solutions:
Intuitive application reduces training costs and minimizes incorrect use
Seamless traceability as the entire weighing and batching process is logged
Easy integration into the existing systems (PLC, ERP, MES, etc.) through a number of hardware and software interfaces
International approval of our products, meaning that they can be used worldwide in compliance with country-specific standards and regulations
The process workflows can be adjusted to each customer through flexible, project-specific adaptations
Manual and semi-automated recipe processes with ProRecipe XT®
Ever stricter product quality and process efficiency requirements plus rising costs for raw materials require supporting systems that offer reliable user guidance and log the entire work process. The recipe management system ProRecipe XT® simplifies the monitoring and management of manual and semi-automated weighing and batching processes. The software solution has proven its worth to the food, pharmaceutical, chemical and cosmetics industries on many occasions:
ProRecipe XT® guarantees consistent product quality and optimal use of raw ingredients, saving time, money and resources
The intuitive user interface ensures safe and efficient processes in production operations
Extensive report functions guarantee seamless traceability
Various interfaces make it easy to integrate the software into existing systems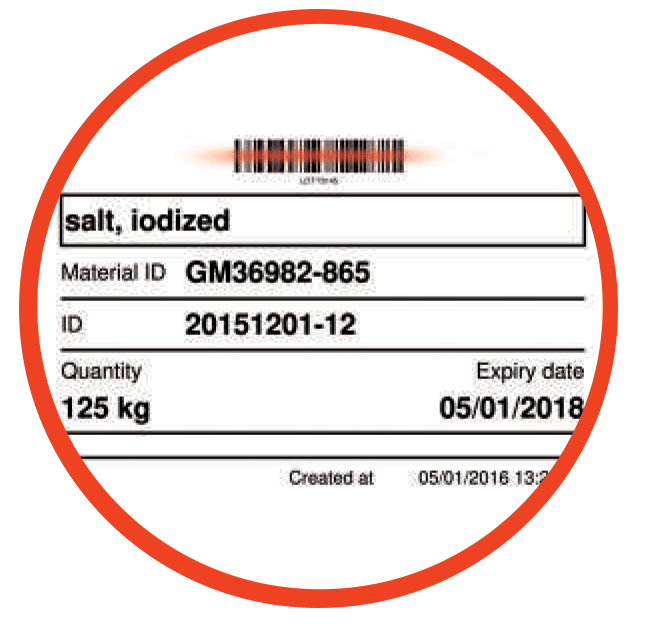 Data input via barcode reader
The barcode reader simplifies processing: the orders are simply scanned by the user and read by the machine. This avoids errors caused by manual data input.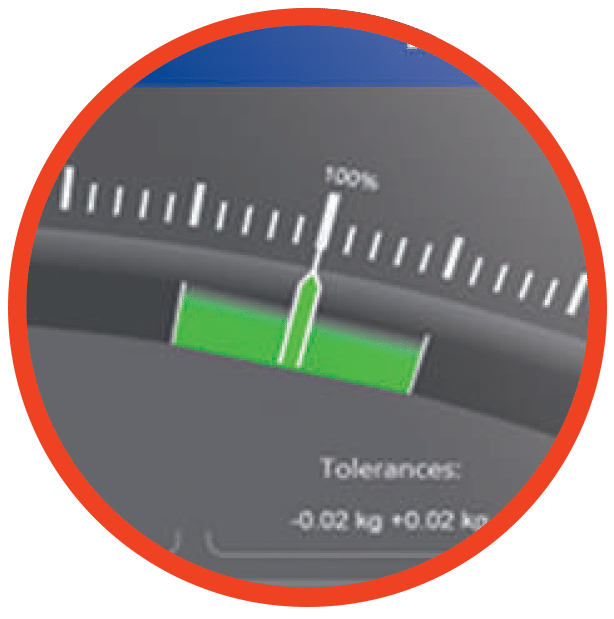 Simple user guidance
ProRecipe XT® is intuitive in its use and quick to learn. The layout provides a good overview, and symbols reduce the number of operating errors, ultimately decreasing waste and increasing efficiency.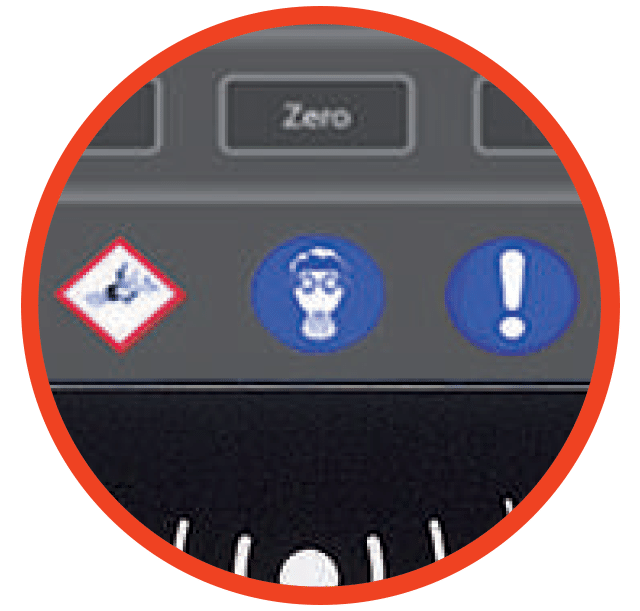 GHS symbols
GHS symbols and safety texts are clearly displayed for every material, which increases safety for the user and the process.
Semi-automated batching of individual components with ProRecipe XT® and EasyFill®
ProRecipe XT® supports EasyFill® with one-component filling for raw materials that are automatically dosed in large quantities. In this process, an electronic weighing system takes control of the necessary batching signals (coarse, fine) via integrated digital inputs and outputs. This can be controlled via the ProRecipe XT® user interface. All required parameters, including the set-point value, positive and negative tolerances and overshoot value, are assigned to the components in the ProRecipe XT® management client. The following electronic weighing systems support EasyFill® or have the application pre-installed:
Weight transmitter PR 5220 for assembly on DIN rails in switch cabinets
Weight transmitter PR 5230 in field housing
Weight indicator X3 in housing suitable for panel mounting
Weight controller Maxxis 5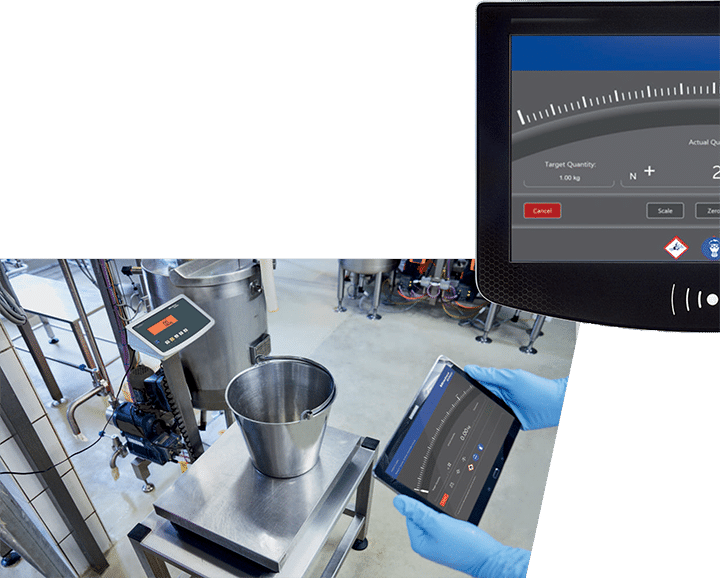 From stationary single-workstation solutions to networked workstations
Thanks to ProRecipe XT®, operating errors and time-consuming data input are consigned to the history books. Its intuitive user interface ensures processes are reliable, guiding the user through each step of the recipe process. The software can be controlled via a Windows PC or the weight controller Maxxis 5. The recipe management system can thus be easily integrated into existing production processes. To ensure maximum flexibility, ProRecipe XT® has been optimized for touchscreens and can also be controlled via Windows tablets to guarantee reliability for recipes and maximum efficiency – anytime, anywhere.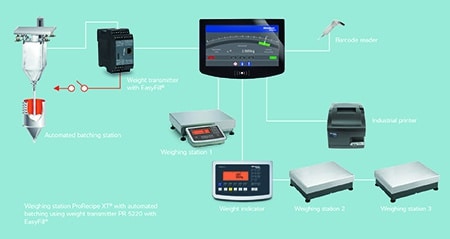 Multi-component batching with software application BATCH
With the weight controllers Maxxis 4 and Maxxis 5, Minebea Intec offers compact all-in-one solutions that combine the scales, PLC and operator terminal for demanding batching applications. BATCH facilitates recipe-based, manual or automated weighing of products on up to four scales. The user can thereby create and manage orders, recipes and materials and start the batching process from a menu on the process controller's large color display.
A simple synchronisation function and predefined process control components enable even inexperienced
users to easily and clearly define process workflows. The simulation function, in which all weighing processes can be tested "dry", i.e. before production commences, makes process design easier than ever before. Extensive reporting functions help traceability, from the raw material right through to the finished product, and make documentation easier.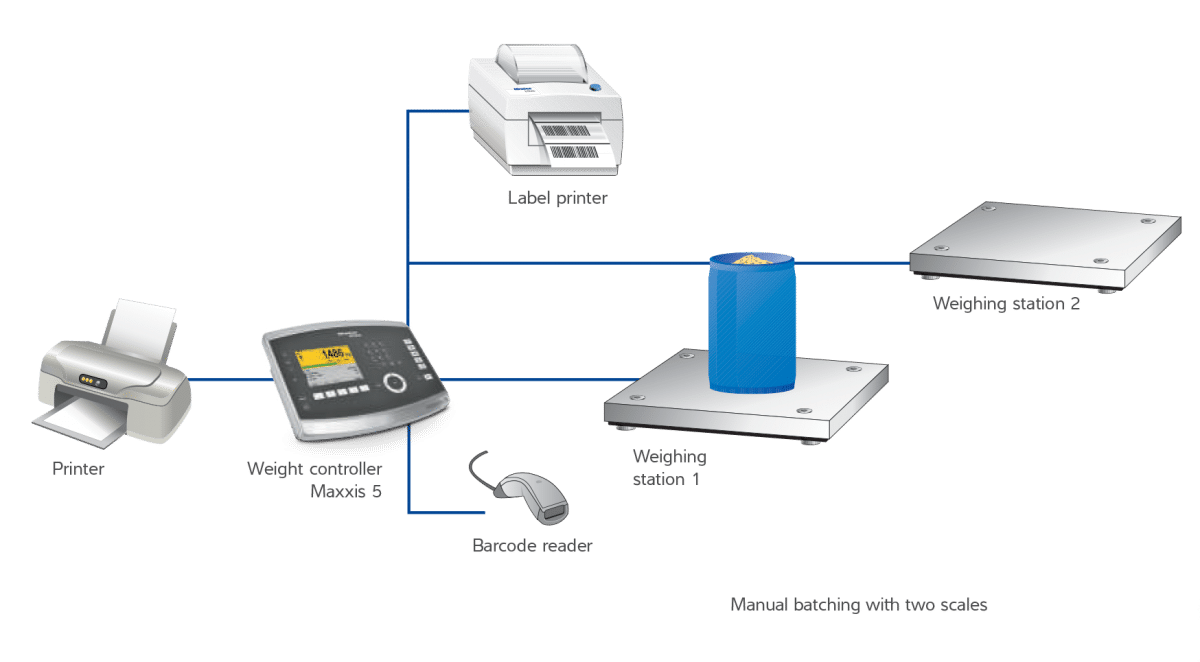 Manual batching with BATCH
When combined with the weight controllers Maxxis 4 and Maxxis 5, BATCH provides a high-performance isolated application for manual dispensing:
Network-independent operation through a built-in database for information on materials, recipes and orders
Easy-to-follow operator dialogues
Precise batching through a color bar graph with tolerance limits
Process safety through built-in material ID retrieval, e.g. using a barcode reader
Recalculation function to minimize production rejection caused by overdosing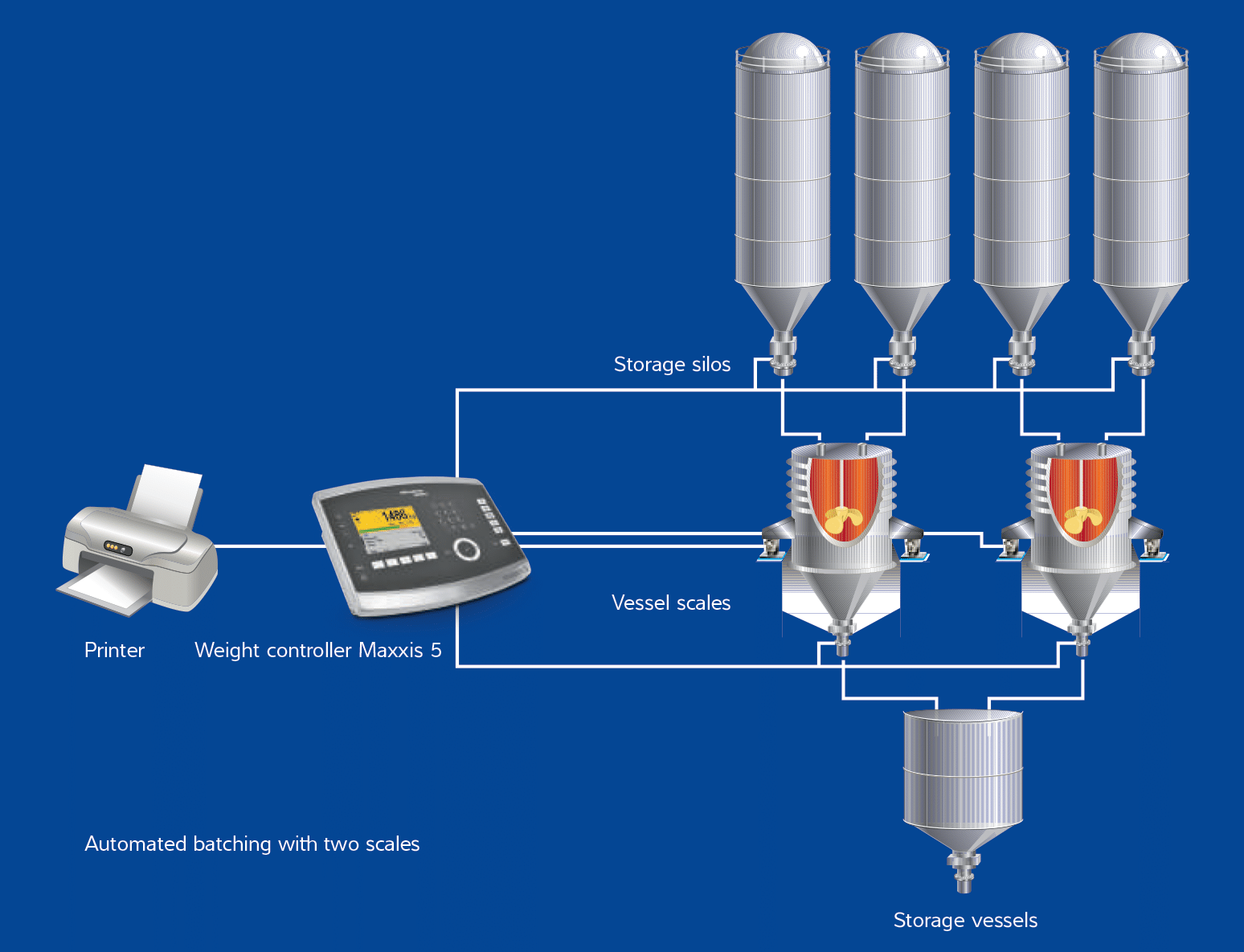 Automated batching with BATCH
BATCH also gives you control over automated processes. Ideal for modular batching facilities with an optional connection to higher-level systems, Minebea Intec offers a tried and tested application package that can be configured to individual requirements:
Orders, materials and recipes can be automatically dosed on up to four scales at the same time
Built-in control functions, e.g. for controlling dispensing valves or a mixer, replace additional PLC
Standard batching functions guarantee reproducible results
Built-in overshoot correction automatically increases the accuracy of the dosage during production
Intuitive displays offer a complete overview of all scales and process steps
A number of interfaces such as OPC, Modbus TCP, ProfiBus DP, ProfiNet, Ethernet
IP or DeviceNet enable integration into higher-level control systems, e.g. for set-point specification
Freely configurable print layouts enable detailed documentation of the batching results
Batching with EasyFill® and IBC
In terms of one-component batching, Minebea Intec provides two different solutions tailored to each application's complexity. EasyFill® has been pre-installed in the weight transmitters PR 5220 and PR 5230 and the weight indicator X3 for simple batching tasks. For complex automated batching and filling applications in which additional process steps, such as shaking or pumping, need to be controlled, the software application IBC rounds off the portfolio alongside the weight controllers Maxxis 4 and Maxxis 5.
EasyFill® for simple batching processes
EasyFill® is a simple solution for batching liquids, powders and granules. In this process, the electronic weighing system also controls the necessary batching signals (coarse, fine) via integrated digital inputs and outputs.
Particularly cost-efficient application that does not require complex programming in a PLC
Precise batching results through user-specific and configurable set-point, tolerance and overshoot values
Time-saving web-based configuration
Flexible use via a PC, front keypad, external push buttons or remote control via PLC
Built-in database for up to ten vessel sizes
Software application IBC for complex filling processes
IBC is ideally equipped for controlling all kinds of processes in which IBCs (intermediate bulk containers) are automatically filled or emptied. The standard software can be used to automatically control how vessels, such as big bags or storage vessels, are filled with liquid, powder or granulated products. Standard functions reduce the installation time and guarantee error-free, reproducible results.
Precise results are guaranteed through high-performance batching algorithms for controlled, automated batching processes
Built-in alibi memory function: our products can be used in situations where verification is required
Flexible process definitions enable adjustments to be made to individual requirements through simple configuration
The built-in overshoot correction automatically increases the accuracy of the dosage during production
Integrated direct control of valves and feeders avoids the use of an additional PLC
Extensive material and consumption reports provide precise information on material consumption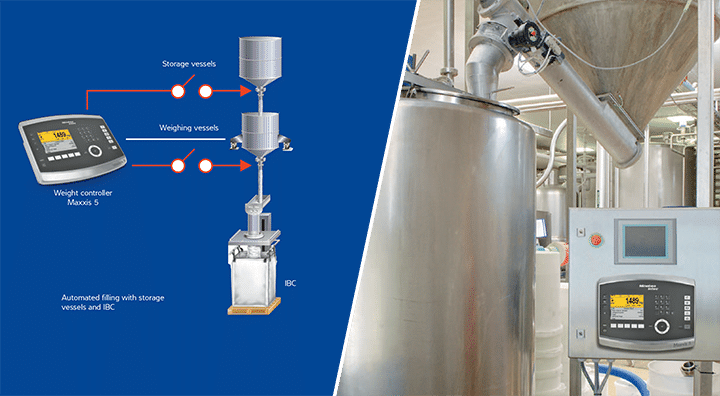 Schedule a consultation with a Michelli Weighing & Measurement expert today
Increase efficiency in your production & quality control operations with an automated batching or filling weighing system. Contact us today to schedule a consultation so we can learn more about your application & recommend the best weighing system for you.