Effective October 1, 2022
Bay City Scale has joined the Michelli Weighing & Measurement team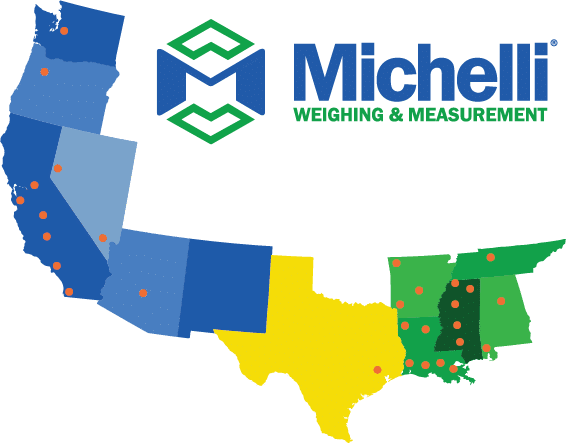 Notice of Ownership Change
We are pleased to announce that effective October 1, 2022  Michelli Measurement Group, Inc. ("MMG") has acquired Bay City Scale, Inc. ("BCS") located in Hayward, CA.  
Bringing together both companies is an exciting event for our employees and our customers.  Our greatest assets have always been our people, and by joining forces we have strengthened the quality of that asset.  Our merger will increase our local presence and ability to serve our customers.  
We look forward to continuing to serve you with the same dedicated employees, plus the larger Michelli Weighing & Measurement team.  All existing employees of BSC have joined MMG.  Bolton Rothwell will continue in the role of Manager of the Bay Area service & sales teams at the current Hayward, CA office.  
Since 1947, the Michelli Weighing & Measurement companies have served the Weighing & Measurement Industry, now with thirty (30) locations throughout the US.  Michelli Weighing & Measurement is ISO 9001 certified, and our calibration labs are IEC/ISO 17025 accredited. This allows us to provide accredited calibration for equipment & precision measurement instruments used in weighing, force, torque, pressure, dimensional, electrical, temperature & frequency measurement.
 Please contact our friendly team of experts with service requests or questions at (800) 903-8823 or [email protected]. 


Michelli Weighing & Measurement is your comprehensive solution for scale service, equipment maintenance & calibration
All Michelli test weights are certified, and we are ISO 9001 registered & ISO 17025 accredited.
With a fleet of heavy capacity test trucks that meet or exceed all requirements, we provide the most comprehensive service network in the United States.
ISO 17025 Accredited Calibration Labs
Michelli Weighing & Measurement offers both standard & ISO 17025 accredited calibration services on a wide range of weighing & measurement equipment.
Comprehensive Weighing & Measurement Equipment Solution
From equipment repairs to rentals, the Michelli team can help. Our product specialists & service experts help you get the equipment you need & keep it in great working order.
30 Locations in 11 States
With calibration labs throughout the Southern & Western United States, the Michelli team is always nearby and ready to help with equipment ranging from heavy duty scales to precision measurement devices.
Contact us today for weighing & measurement equipment sales, service, calibration or repair