Consistency is Imperative in Formulation
Making sure formulation recipes are carried out consistently across an organization is critical to the quality and safety of the final product. Smart laboratory balances with open connectivity and database storage are changing how companies manage formulation recipes, while ensuring traceability and consistency across all users.
A Bit of This, a Bit of That
Formulation is part art and part science. This is a special branch of manufacturing where scientists develop the right combination of non-reacting chemical substances that go into a product. For example, the amounts of colorants, flavors, binders and other substances that are part of a drug tablet must be carefully determined and measured to ensure quality of the final product.
Companies doing formulation need a reliable way of storing recipes. Part of this involves the precise weighing of individual components and keeping an accurate record of the information. This is vital for maintaining consistency, especially for companies with multi-site operations. These capabilities also facilitate audit-readiness in regulated environments, and help prevent financial loss due to bad product or spoiled formulations.
Benefits of Database Storage
Databases not only provide a central and secure place for storing critical data, but also facilitate easy integration into different software systems such as your company's enterprise resource planning (ERP) system, or a laboratory information management system (LIMS). Laboratory balances with database storage capability have many advantages for doing formulations:
Database integrity — the system maintains information accuracy
Centralized storage — an organization can manage recipes from one centralized database and easily roll out new configurations
Data independence — different application programs can access recipes over a protected interface
Audit trail — external databases in combination with your electronic laboratory notebook or LIMS can track changes to records
Secured access — different tiers of access prevent unauthorized recipe manipulation
Data backup — the database safeguards data with backup and recovery functions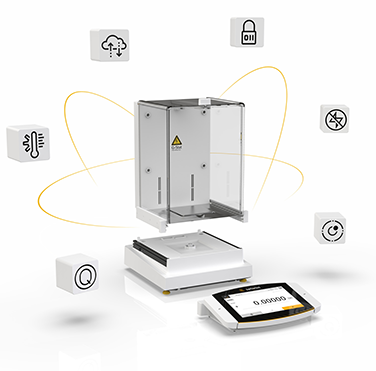 Balances are Getting Smarter
Sartorius' Cubis® II balances are unique in that they are the only build-your-own laboratory balances with fully customizable hardware, software and connectivity. The units come with standard and optional QApps software packages for a range of workflows, including formulation. Using the Formulation QApps, companies can manage all their recipes locally on the balance database, or on a central database.
The Formulation QApps software can store recipes with up to 50 components in the selected database. During the guided weighing process, the balance displays the target weight of each component, and indicates if the measured component weight is within the set tolerance. This built-in safeguard helps ensure accuracy and adds a level of safety when working with controlled substances.
Currently, the Formulation QApps supports two database types: SQLite and PostgreSQL. SQLite is an internal database that is used for recipes stored locally on a specific balance. PostgreSQL (also known as Postgres) is a free and open-source relational database management system (RDBMS) for sharing of recipes across multiple balances.
Centralized or Local Database?
Different labs require different connectivity and databases storage. Companies that need to manage recipes on multiple balance units can connect to a PostgreSQL database server. Once a recipe is created, it can then be accessed on any connected balance. Importantly, all modifications to recipes are recorded in the audit trail and are fully traceable.
There are instances when a balance is not connected to a central network. For example, secure laboratories must follow strict protocols and are usually not connected to a network. In this scenario, users can save recipes on the local SQLite database and use it for tasks performed only on that unit.
A Recipe for Success
Formulation is a critical step in any product development and production process. The Cubis® II Premium balances facilitate accuracy and consistency when using recipes, whether it is on a single balance, or across multiple balances. Database storage provides secured shared access, while also providing full traceability and safeguards for data integrity.
See how your chemical research lab can benefit from a smart balance with connectivity and database storage. 
The above post was provided by Sartorius. For more than 150 years, Sartorius has provided innovative tools to help researchers make scientific discoveries. Sartorius confidently addresses increasing demands for enhanced quality, efficiency, accuracy, compliance, and production with instrumentation, intuitive software, hands-on training, and comprehensive services for the biopharmaceutical, chemical, food and beverage industries, and academic sector.
Ensure Accuracy with Scales From Intercomp
 Contact your local Michelli Weighing & Measurement team of experts today. Whether you need portable scales or in-ground scales, we can help you find the right Intercomp equipment to help you ensure accuracy.