The following post was provided by Cardinal Detecto. Cardinal/Detecto manufactures and markets a complete line of quality weighing products and systems. Cardinal/Detecto provides a one-stop shop for all of your weighing needs with an extensive product line of scales and weighing systems complete with a wide selection of peripheral equipment for your truck scale or weighing operation. Your risk is eliminated when you own a Cardinal/Detecto scale, since you only have one call to make for new products and service support.
The 'Weigh' to Decide on Livestock Scales
Cattle production is a very dynamic industry that requires a great deal of unique solutions when trying to develop systems for effective cattle weighing. Furthermore, weighing cattle has become integral to the cattle industry; long gone are the days of treating a weight scale as an option to a thriving beef producing operation. Having a cattle weighing platform can drastically alter a herd's performance and makes managing a ranch a less daunting task. Knowing and recording birth, weaning, and yearling weights helps track weight performance, and helps ranchers ascertain proper dosage for sick livestock while preventing under- and overdosing of medication. Optimizing breeding times and correctly identifying feed portions and feed conversion rates are also important pieces of information that ranchers can have at their disposal. Ranchers can also identify animals that exhibit the best genetics that will be expressed in the future of the herd. Knowing when and how to make improvements to herd health and performance can mean the difference between generating good profit and losing money and effort for all that hard work.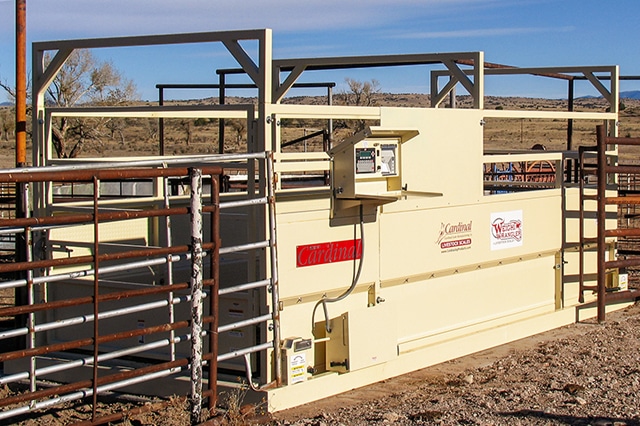 There are a great many options regarding livestock scales on the market. Since the size and focus of many cattle operations vary greatly, there are many possibilities that should be considered before making a decision that finalizes a scale-buying decision. Consider the volume of livestock that will be using the scale, the size and weight of the livestock that will be using the scale, the size of the cattle operation where the scale will be utilized, and whether the scale will place in a permanent location, need to be portable, or need to be mobile. Load bars, permanent electronic/digital cattle platforms, portable cattle scales, and mobile livestock weighing platforms are all tools that can be used to fit any rancher's unique weighing environment.
Load Bars
Load bars
are a unique tool that have a wide range of applications but can be used in a specific manner for cattle ranching.
Load bars
consist of a low-profile, narrow weighing beam that features two load cells –one on each end— and load cell feet at the ends of the beam. Because of their low profile,
load bars
can be placed directly under squeeze chutes or flat steel platforms to weigh individual cattle when they are at a standstill. The great thing about load bars is the simplicity of their design and usage, in addition to the variability of load bar lengths and weight capacities. Regarding construction, stainless steel load cells are going to provide the most protection from sewage and weather in the typical lot or field environment. Foot plates should have sufficient width to provide much-needed stability, and special attention should be paid to wiring to make sure it is clear of any impediment that can prevent information transmission to an indicator.
Single Animal Livestock Scales
Single animal livestock scales are a great tool for single animal weighing in small- to intermediate-sized ranching operations, veterinary clinics, and animal research, because they can provide exact weight for that particular animal. Single animal livestock scales provide the greatest amount of precision and accuracy of all the livestock scales. They are also easily integrated into pre-existing chutes and pens for stationary weighing.
Single animal livestock scales feature models with pens and gating to provide safety for the scale operator and the animal. Models should also include thick rubber composite matting to ensure footing, prevent slippage, and reduce noise to provide a more serene, safe experience for livestock. Single animal livestock scales should also feature gating that is easy to close and is inaccessible to livestock for operator safety. Indicators that include digital filtering are especially useful to quell scale motion that will likely be initiated by the animal. Scale designs that utilize elevated junction boxes and indicators that have higher IP (Ingress Protection) protection ratings are ideal for efficient and long-lasting single animal weighing use. Elevated junction boxes lessen the chance of damage from filth, sediment, and water, and indicators with high IP ratings feature enclosures that resist moisture and sediment damage that destroys electronics within the indicator.
Stationary Group Livestock Scales
Stationary group livestock scales come in a variety of models to fit a larger cattle processing facility. Stationary group livestock scales are an ideal option for use in stockyards, feed lots, and large commercial and private ranches. These scales are meant to be large enough to weigh groups of ten to twenty head of cattle at a time when received at a ranch and during processing when taken to processing centers. These scales let you monitor the overall weights of your herds.
Electronic group livestock scales feature concrete decks that have low-profile designs that are relatively inexpensive to ranchers. These decks are easy to install while providing a platform that also has the capability to weigh up to 20 tons of cattle.
Precast concrete deck livestock scales typically include livestock pens and gates than can be individualized to swing open according to the rancher's needs. The concrete pads of these scales are ridged to provide secure footing for cattle within the pen. Precast concrete livestock scales tend to be the largest of stationary group livestock scales that can exceed 50 feet in length. This added size also raises overall weighing capacities up to 30 tons to accommodate larger groups of cattle.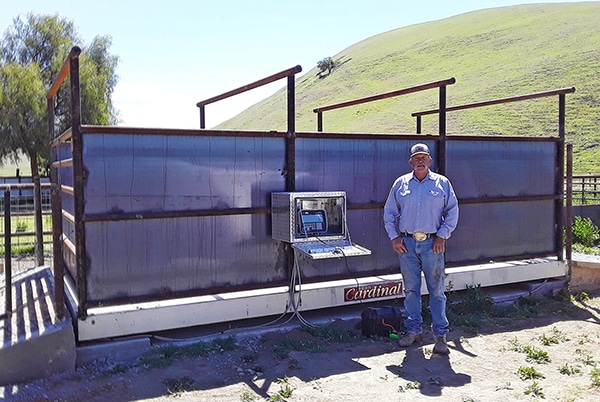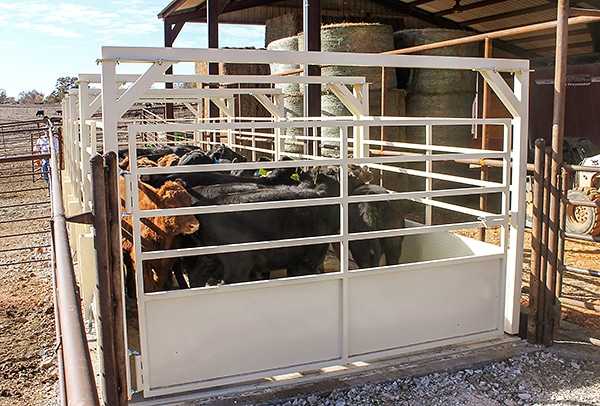 Portable and Mobile Livestock Scales
Portable and mobile livestock scales are appropriate for weighing large groups of cattle on a large property or in an area with multi-use sites. Some portable and mobile livestock scales are easily adapted to the environment they will be utilized in if they are capable of self-leveling, eliminating the need to recalibrate the scale after transport. Large, remote ranches can use these scales to weigh groups of cattle in multiple locations to save time and effort. Processing large groups of cattle in an efficient manner can save hours of labor. Mobile and portable cattle scales are also great at reducing shrink loss which is directly attributed to the stress of moving cattle to an offsite weighing site—removing this issue gives ranchers more accurate and profitable results.
Portable livestock scales can be moved between locations with heavy machinery. Mobile livestock scales offer all the advantages of a portable livestock stock, only they can be hitched to a truck and moved. Mobile livestock scales can not only move from several locations within a given property, they can be moved to any other location where the scale is needed.
Both mobile and portable livestock scales should feature rubberized component decks for easy cleaning and durability. Rubberized decking is important for traction to keep livestock calm when entering and exiting the scale. Mobile and portable livestock scales should also operate optimally on any firm surface if it is needed to meet NTEP standards (5% grade). Cattle blinds should also be included to reduce stress during the handling and transport of cattle. Digital filtering is also of great use with mobile and portable scales to compensate for the movement of animals when weighing. Other features that are especially useful are mobile weighing centers attached to either scale option that calculate shrink loss, current head count, gross weight, and average weight. Plus, these scales are typically NTEP legal-for-trade and can be used in commercial transactions and they include a ticket printer. Mobile and portable cattle scales can generally weigh 15-20 head of cattle at a time.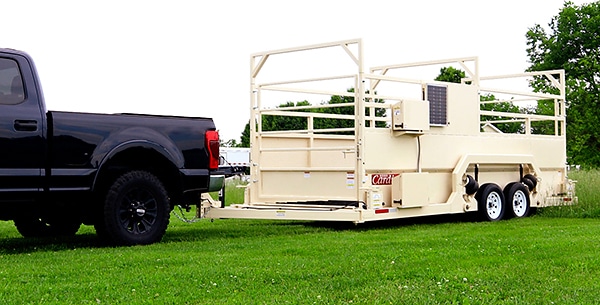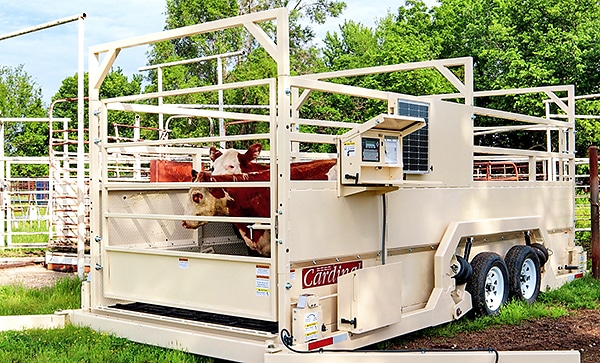 Conclusion
Due to the large variety of options available to ranchers, consider the size, usage, volume, and location of the cattle operation's needs. Each scale type has a particular usage for which it was designed. Consider the needs of your livestock operation when making a cattle scale purchase. Your choice can have large benefits in saving money on each animal that is monitored. ​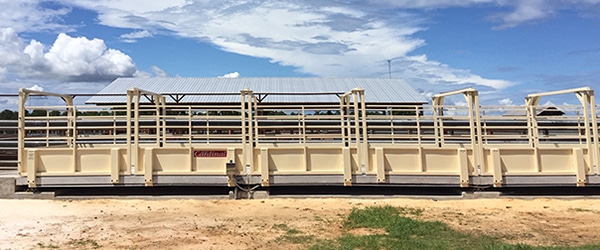 Request a quote for your new Cardinal Detecto Livestock Scale Today
Contact your local Michelli Weighing & Measurement account manager today and let us help you choose the right Cardinal Detecto livestock scale for you.