The following post was provided by A&D Inspection, our featured manufacturer this month. A&D Inspection provides product inspection equipment that enhances food safety & helps protect your brand from the inside out. From highly-accurate in-motion checkweighers that are customized to your application to x-ray inspection machines & metal detectors, A&D Inspection has the product inspection equipment you need. 
What is Product Inspection Equipment?
Product Inspection equipment is used in food production settings to help ensure that food products are safe before leaving the facility. Not only does this equipment help ensure that food products do not contain contaminants, but it also helps producers closely control the quality of their products. Inspection equipment is also required by law to ensure that producers are complying with food safety guidelines. The most common types of product inspection equipment are checkweighers, which can be easily added to existing production lines and can even add functionality like reporting, automated rejection & more.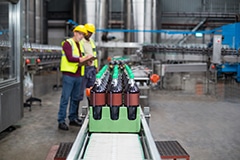 The Advantages of Adding Inspection Equipment
Contaminants in food products are very dangerous. Where a contaminant is detected makes all the difference. Having reliable product inspection equipment could mean the difference between detecting a contaminant before it leaves the facility, or a customer finding the contaminant in their product at home.
That's why quality production inspection equipment is so valuable. A dependable product inspection process can help producers detect contaminants before it's too late. Not only does early detection protect consumers from a potentially dangerous situation, it also protects producers from regulatory consequences, recalls, lawsuits & the loss of customer trust.
How to Choose the Best Product Inspection Checkweigher
When deciding which checkweighing solution is right for a particular product and production line, the customer should start by taking a look at current processes within their manufacturing operation.
First, consider the following:
The weight, shape and size of products
The production environment
Legal or brand requirements
To start the assessment process, answer these three questions:
What types of products will be handled by the checkweigher?
In what kind of environment will the checkweigher be installed?
Apart from weighing, are there any other product inspection requirements that need to be fulfilled?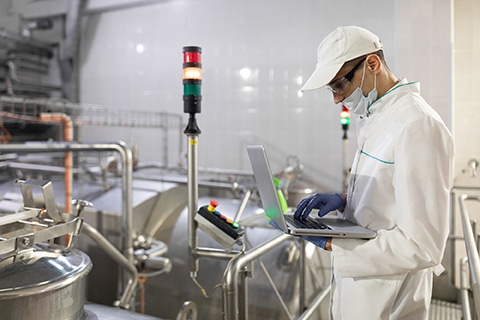 Other
Considerations When Choosing
Product Inspection Equipment 
When purchasing new inspection equipment, it's important to ask the basic questions regarding cost, safety & training requirements, but there are other key factors to consider as well. It's important to think beyond cost & training to make sure the investment is the right move for your production line, and will be able to meet your needs.
Here are some important questions to consider when deciding which equipment to install:
How much training is required to enable employees to safely use the machine?
How will this new equipment impact production speed?
What are the required maintenance activities? How often should these be performed?
Is this machine safe?
How can it increase product safety?
How does it reject defective products?
How accurate is the equipment at detecting small contaminants?
What types of contaminants can the equipment detect and how accurately?
What are the initial capital costs?
Are replacement parts readily available in the event of a breakdown?
A&D Checkweighers Are Built for Product Inspection
A&D product inspection checkweighers are designed with safety, productivity & accuracy in mind. With A&D checkweighers, users can expect a simple user experience, built-in reporting features and more.
Here are a few of the features that make A&D checkweighers unique:
Superior Accuracy – leveraging over 40 years of digital signal processing (DSP) excellence
Designed for maximum uptime – modular components allow easy replacement
User interface simplicity – designed to provide the best user experience for machine operators
On board report generation – data at your fingertips
Sanitary design – angled steel and sloped surfaces provide optimal cleaning
Ease of integration – compact design and connectivity enable minimal retrofits to existing lines
A&D Checkweighers Offer Many Benefits
A stable element of production operations for many years, checkweighers are widely used, and are capable of far more than just weighing. Checkweighers can generate valuable feedback and record trends that can be used to optimize production.
How A&D checkweighers increase productivity:
100% weight inspection helps users avoid costly fines
Filler feedback keeps automated fillers in sync
Reduced material waste leads to more profit
Process improvement increases efficiency
Automation decreases labor and personnel costs
Using weight to determine uniformity reduces false rejects and rework
Producing higher quality products helps maintain brand identity
In addition, an A&D checkweigher can effectively improve your overall equipment efficiency (OEE) and thus reduce your total cost of ownership (TCO).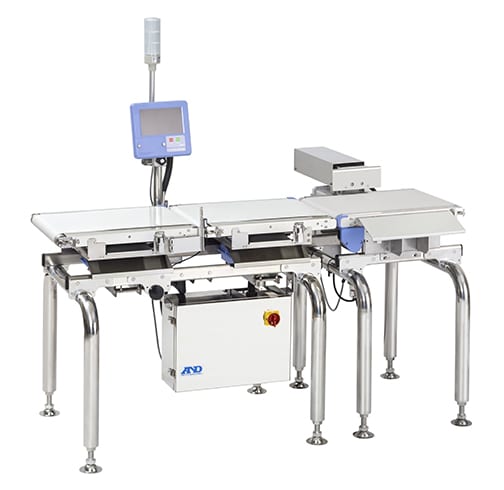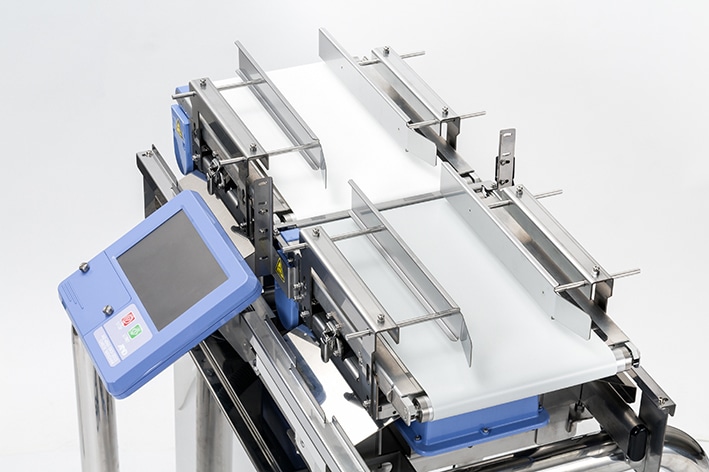 How A&D Checkweigher Data Helps Increase Productivity
A&D Checkweighers pump out loads of data that give interesting insights on trends occurring throughout the production line. For instance they can tell if a filler is out of tune and make automated adjustments.
Want to learn more about product inspection equipment?
Contact your local Michelli Weighing & Measurement location today and let our experts help you discover the right inspection equipment for your application.