​Why Use a Hazardous Area Guide?
A hazardous area guide can help simplify hazardous location classes, divisions & groups as defined in the National Electrical Code (NEC), or NFPA 70. Keeping an easy-to-read guide within view can help ensure that anyone entering a potentially hazardous area understands the risks. It is imperative for businesses and employees to fully understand hazardous area classifications in order to protect themselves, those around them, and the work environment from harm.
What is the National Electric Code (NEC), or NFPA 70?
NFPA stands for the National Fire Protection Association. The NFPA 70 is the National Electric Code that has been accepted in each of the 50 states as the standard guide for safe electrical work, including design, installation & inspection. According to the NFPA website, "The code is used to protect people and property from electrical hazards". It covers the installation & removal of electrical equipment in all land-based locations & floating buildings. It does not cover electrical installations on ships, railway stock, aircraft or automotive vehicles (other than recreational vehicles). NFPA 70 helps us define potentially dangerous areas by giving them a code, which typically includes a class, a division, and groups of materials that may be used within those parameters. For example, a Class 1, Div 1 area where Group A may be present would be defined as an area where flammable gases or vapors may be present under normal operating conditions. That flammable gas or vapor would include Acetylene, which is covered in Group A.
How does the hazardous area guide help protect employees?
A hazardous are guide helps to ensure they understand what risks could exist within the area they are about to enter. Education is the best way to ensure that people do not perform any activity that might be detrimental to their health because they were unaware of the potential danger. For example, if there are flammable gases present in an area, then everyone entering that area should be informed so that no sparks or other fire hazards are inadvertently created.
A hazardous area guide also helps decision makers plan for equipment purchases. For instance, certain equipment would need to be avoided in a Class 2 Div 1 environment that contains combustible metal dusts such as those included in Group E. However, that same equipment might be safe for use in a Class 1 Div 1 environment containing gases included in Group B. The decision maker must be aware of the differences between each class & division, and the groups of materials so that he/she can purchase equipment that can be used safely within the environment.
The Michelli Weighing & Measurement team is here to help with equipment selection. Our experts are well versed in hazardous location requirements and suitable equipment for each. Let us make sure you get weighing & measurement equipment that is safe for your environment, and can also provide reliable, efficient results.
Below is a simple guide to NFPA 70 NEC hazardous locations classes, divisions & groups for you to print and use as needed.
Use this hazardous location guide to protect yourself & your coworkers. Don't ever use equipment that is not rated for the environment in which it will be used, as this could lead to bodily harm or destruction of property.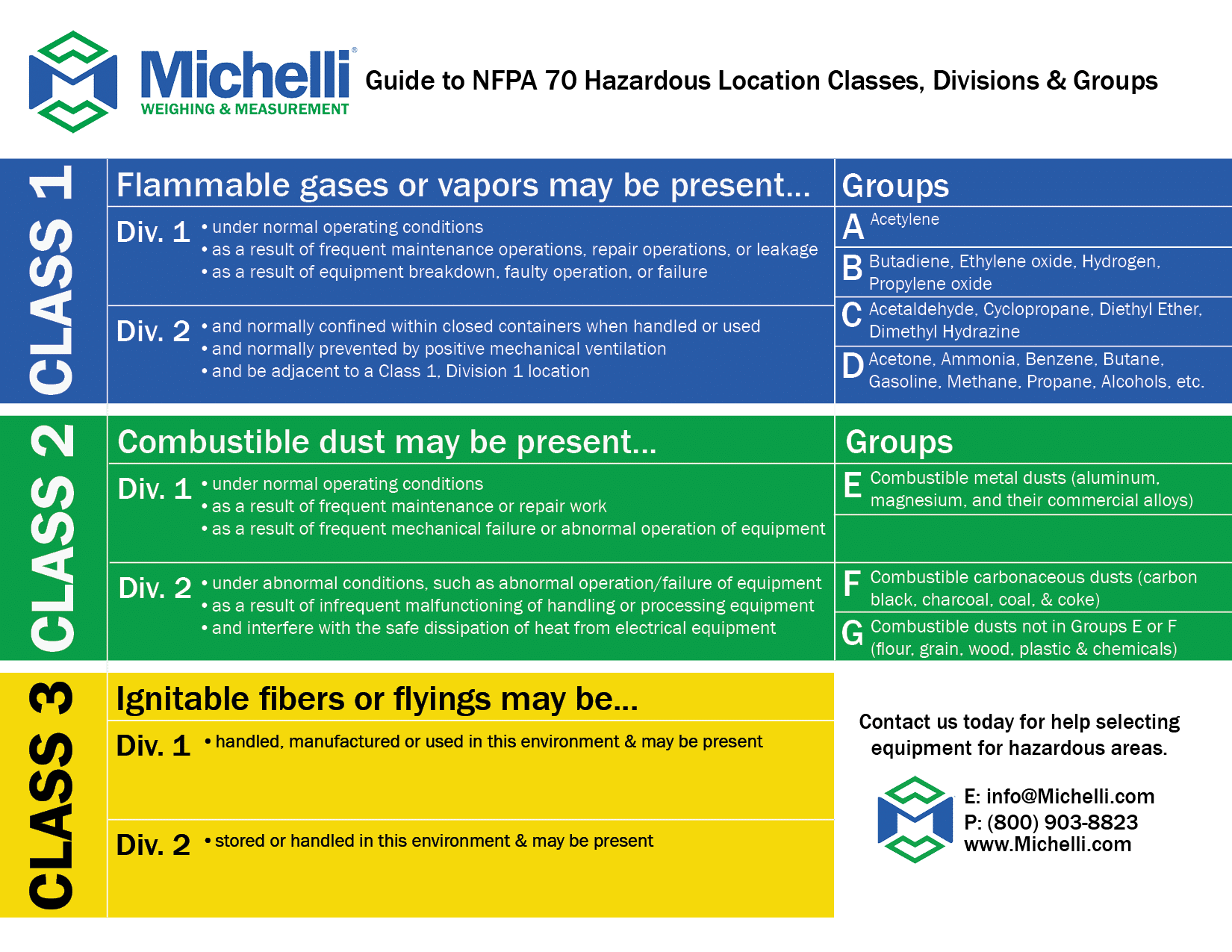 Right click on the image above, then choose "Save Image As". Give the image a name & save it to your computer, print, or use this link to download a PDF version: Hazardous Area Guide
Need help choosing equipment for a hazardous location?
Contact your nearest Michelli Weighing & Measurement location today and speak with an expert about the best weighing & measurement equipment for your hazardous area. We're here to help and can recommend the safest options for your application, environment & budget.