Why are regular scale inspections important?
There are several benefits to regular scale inspections, including compliance & planning considerations. This isn't unique to weighing & measurement equipment, as regular inspection is an imperative part of equipment maintenance in general. However, scale inspections are particularly important because in many cases, a measurement equipment malfunction could directly affect quality, cost & safety.
Inspections Help Prevent Loss of Time & Money
Inspections present organizations the opportunity to identify small issues before they balloon into big problems. One such problem is regular wear & tear. The Michelli Weighing & Measurement service team was recently called to a site to assess & repair a scale failure. Upon further inspection, it was determined that the problem was the result of a worn pin.
Luckily, the worn pin is a simple repair. Once the Michelli Weighing & Measurement team was able to identify the problem, the replacement part was ordered & installed. The scale was back up & running quickly. Unfortunately, the customer lost revenue because operations ceased while they waited for the new part to be delivered & installed.
Regular measurement equipment & scale inspections provide users with the ability to identify problems sooner, order replacement parts & schedule downtime to conduct the repair.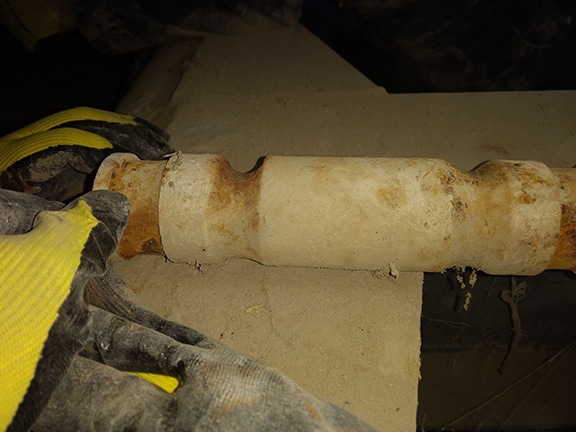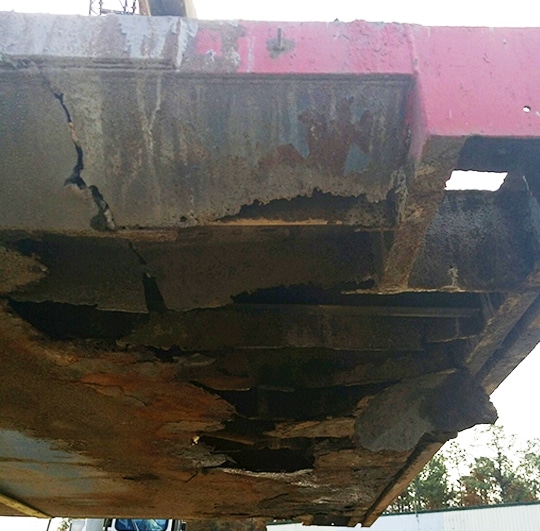 The bottom of this truck scale has rusted through completely
Regular Scale Inspections Help Reduce Risk
Scale inspections also give users the ability to assess hazards caused by the elements, like mud, or the rust build-up underneath this truck scale. This particular scale was exposed to the elements & inspections were neglected for a long period of time.
The entire bottom of the scale rusted completely through until it was ruined. Regular inspection would have revealed that there was a problem. If the problem was corrected, this scale might have required repair instead of complete replacement.
Problems that could have been avoided with regular inspection
Imagine if a truck scale was neglected. This truck scale was not regularly inspected, and it began to weigh light because mud build-up wasn't allowing the scale deck to move freely. The bottom of the scale would begin to rust & trucks would be overloaded.
Truck Scale Neglect | Mud Build-up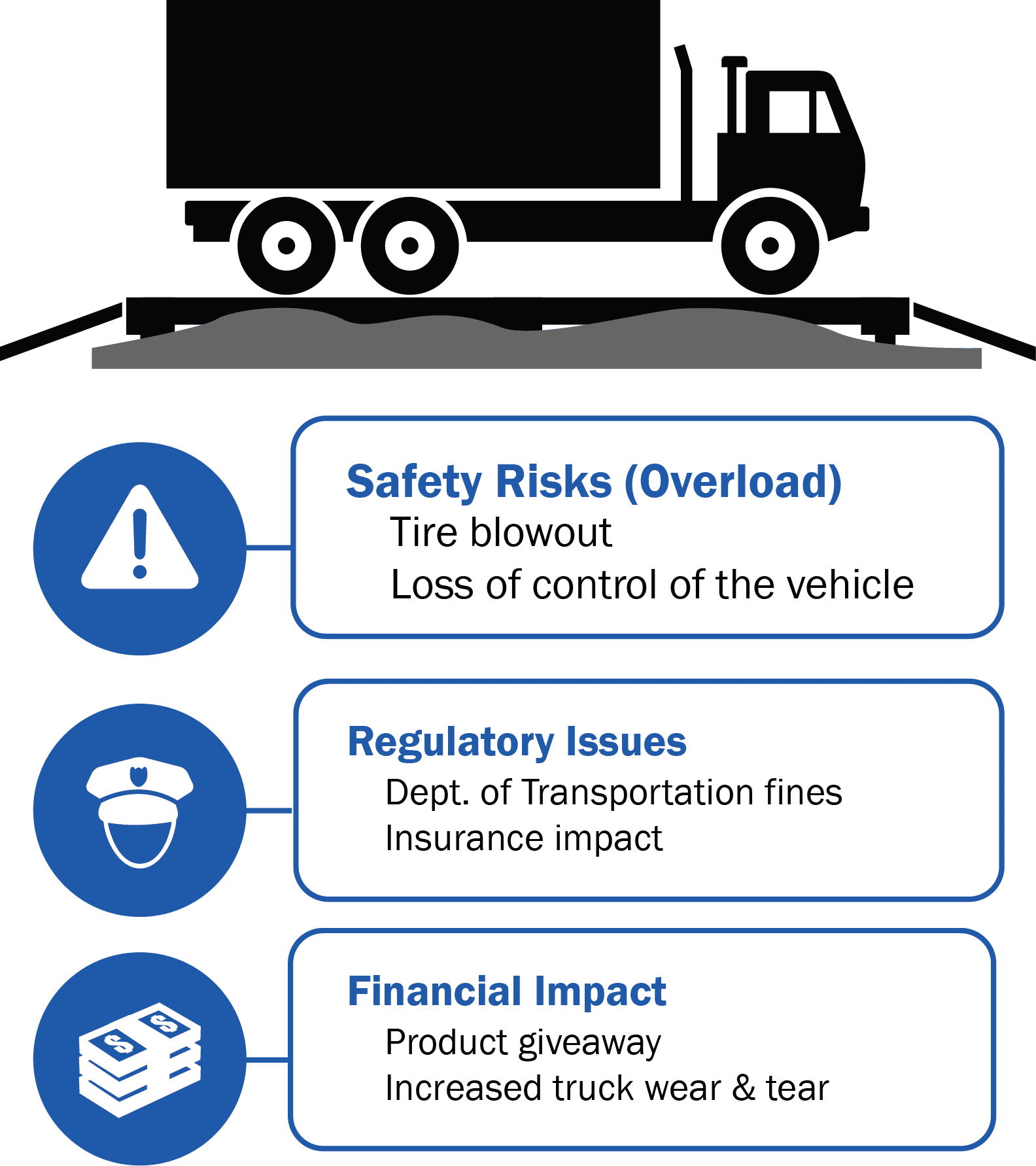 The safety of the truck driver & other drivers on the road would be at risk due to the increased chance of a tire blowout. The company could also face serious fines & legal issues with the Department of Transportation as a result of overloaded vehicles. Additionally, the company could be giving away additional product, free of charge, without even realizing it.
Let's imagine that a scale used in an automated filling application stopped functioning during a "turnaround" at a petrochemical plant. During a turnaround, the plant operates at full capacity, round the clock, until the goal is met. A neglected scale is unreliable.
Scale Neglect | Unplanned Down Time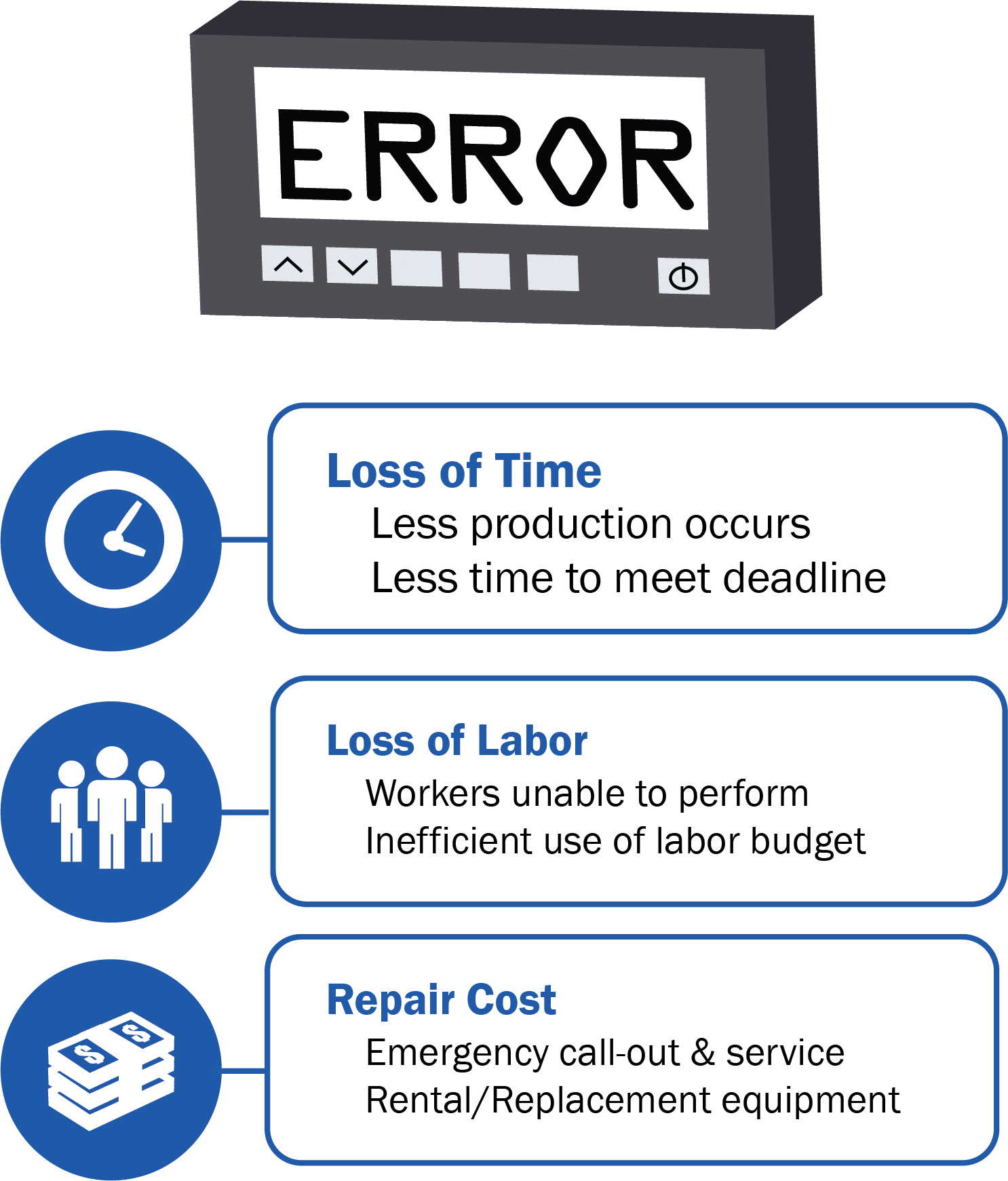 If an automated filling operation goes down unexpectedly due to a scale failure, the costs associated could be astronomical. Regularly scheduled equipment inspections help companies avoid these situations by constantly monitoring the state of their equipment.
What happens during a scale inspection?
During a scale inspection, the Michelli Weighing & Measurement service team checks both the visible & functional aspects of your equipment. This process is meant to identify any structural problems, environmental issues, electrical hazards or potential concerns.
The visual scale inspection allows our service technicians to identify & notify customers of any wear & tear. Early identification is key to ordering replacement parts & scheduling repairs that won't affect operations. Visual inspection also allows a scale technician to assess how the environment may be impacting a scale. For instance, the technician may notice that a wire has come loose, or recent weather has caused a guard rail to lean on the scale a bit. The visual portion of a scale inspection is crucial, but it's only the beginning.
The functional inspection allows a technician to determine if a scale is in good working order. Michelli Weighing & Measurement inspections are performed by state certified technicians, who use state certified NIST traceable test weights to test for accuracy. If equipment is generating inaccurate results, or slipping out of tolerance, the technician determines the cause & suggests a course of action to correct the issue. During the functional inspection, the scale technician also checks to make sure that equipment is moving as it should & displaying as it should.
How to Develop a Scale Inspection Schedule
Developing an equipment inspection schedule is the first step to implementing a preventative maintenance plan. To determine how often your equipment should be inspected, consider these three factors:
In what type of application is the scale or equipment being used?
In what type of environment is the scale or equipment being used?
How crucial is the scale or equipment to operations?
For example, in a petrochemical plant, batching operations are used often. The quality of a product is directly dependent on the quantities of ingredients contained within a batch. The scale or equipment that measures those quantities may require inspection several times a day to ensure accuracy, maintain quality, and decrease safety risks.
Imagine a truck scale that is used in a rough environment such as a gravel pit, where it is exposed to the elements & regularly covered in sand & rocks. The truck scale might require daily inspection to determine how often build-up should be removed to maintain accuracy. Otherwise, the life of the scale will be reduced by what is considered "normal" wear & tear in that environment.
A Michelli Weighing & Measurement service technician can help you determine a reasonable scale inspection schedule. He can also help you determine how often your other measurement equipment should be inspected. This conversation will also help you plan for potential preventative maintenance considerations such as common repair costs, the availability of replacement parts for your equipment & scheduled downtime.
Ready to Schedule a Scale Inspection?
Utilize the expertise of the Michelli service team. Our scale technicians can offer insight into how to extend the life of your measurement equipment, and even how to use that equipment to increase efficiency & productivity.
At Michelli, we show the world what measurement can do. We're here to help you & happy to do so. Contact your local Michelli Weighing & Measurement location today to schedule your scale inspection.