The following post was written by Richard Sharpe at Intelligent Weighing Technology, Inc., our featured manufacturer this month. Intelligent Weighing Technology offers a complete range of high quality laboratory balances, industrial scales, load cells & weighing accessories.  
Preventative Maintenance & Its Part in a Production Environment
Weighing equipment is dynamic in the way that it is always moving when in use. Things that move experience wear, they get abused and moved and therefore it is good practice to regularly test and calibrate your equipment. Furthermore, your equipment is also influenced by its surroundings, such as sunlight, vibration, dust, moisture and placement.
Michelli Weighing & Measurement has the skills to help you to nullify all these negative influences on your important measuring devices. Don't forget, you weigh things to make sure that your process is under control and you are making product within specification.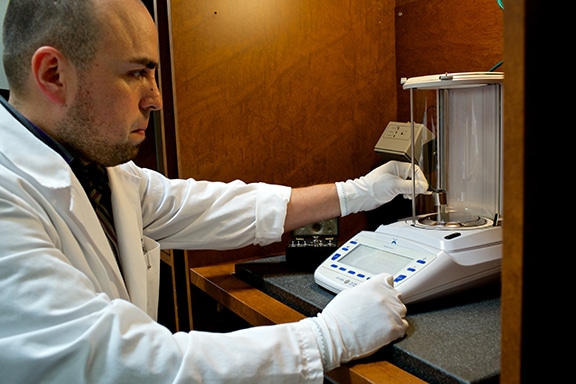 A technician calibrates an analytical balance
Why should I calibrate?
This question triggers a second one: "Why would you want to weigh at all if your balance is not calibrated?" Balance or scale calibration is essential to achieve accurate weighing results. Ignoring this important activity turns measuring into guesswork. In other words, it is negligent to weigh with a non-calibrated balance or scale. It can also be costly in terms of raw material losses and customer dissatisfaction. The accuracy of balances and scales becomes less reliable over time. This is the result of normal wear and tear caused by regular use and external factors such as mechanical shocks or hazardous environments. This may lead to a rather quick degradation or deterioration over a longer time. Periodically scheduled balance calibration in combination with frequent routine testing greatly enhances the life time of your balance or scale and its weighing accuracy.
Let's examine some of the preventative maintenance steps you can take to provide the ideal environment for your equipment.
Ask your Michelli service technician about where to place the balance or scale. It does not matter that you are talking about an analytical balance or a floor scale, they are all affected by their surroundings. Your Michelli scale technician will advise you that machines placed in direct sunlight (rapid changes in temperature), vibration (causing uneven readings), drafts or air-conditioning (causing pressure on the weighing platform to fluctuate), or dust will eventually start to degrade in performance. Your Michelli service technician can help you with this. These are some of the more common issues to affect your scales, but there are also other issues. Magnetism will definitely affect scales as will electrostatic charges that will often occur when man made plastic products are handled.
Your Michelli technician will also be able to set up a calibration regimen for you. Depending on the amount of use your scale gets, you should arrange for calibrations to take place on a regular basis, but certainly not in less than six months intervals. A good rule of thumb is that the more important the job the scale performs for you, the more often you need to have it calibrated. Where the scale is controlling expensive parts of the process, you may consider that monthly calibration is necessary.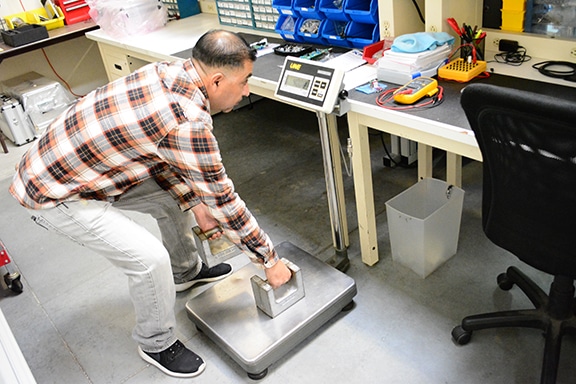 A scale technician uses test weights to calibrate a scale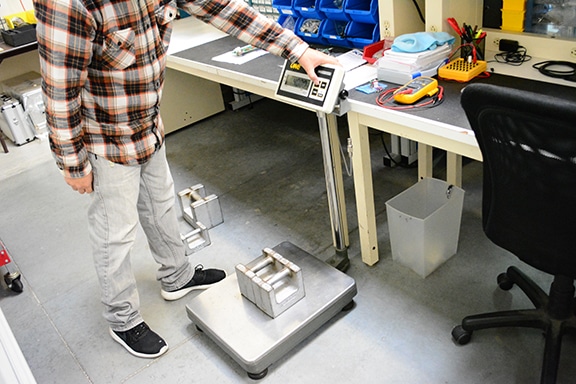 Test weights must be NIST certified to be used as a standard in calibration
Many things can affect the performance and make calibration necessary. Even simple issues like moving the scale will perhaps give you errors. Your Michelli scale technician will have suitable weights to be able to accomplish the calibration properly. These weights will be traceable to NIST (National Institute of Standards and Technology) and will have been constantly checked to ensure they remain within specification. It should be noted that test weights can vary greatly, they can gather dirt, wear out, or people paint them (please don't do that). Not only does your weighing equipment need constant calibration, but so do the weights used for the calibration. Michelli Weighing & Measurement takes care of this for you.
So, whether your scales are made in the USA, Switzerland or China, they need expert help to produce accurate results to keep your business running on the right lines.
Richard Sharpe
Intelligent Weighing Technology, Inc.
© Copyright 2019 | All Rights Reserved | www.intelligentwt.com
The Importance of a Calibration Certificate
Calibration certificates are available through Michelli Weighing & Measurement for every calibration we perform. In addition to the information provided on the basic test report, which is issued automatically with every calibration, a calibration certificate includes the following:
Your state licensed Michelli technician's name & license number
NIST certification numbers of the standards (or test weights) used to test your equipment
Test & retest dates of the standards used
This information can be used as proof that you have exercised due diligence in ensuring that your equipment is NTEP approved, and is traceable to NIST standards. Traceability is imperative to quality assurance, as it proves that your equipment meets a universal standard.
A calibration certificate provides a traceable record proving that you have done all that you can to ensure any/all measurements produced by your weighing or measurement equipment within the certification time frame are accurate.
Ready to schedule a preventative maintenance service?
We're here to help! Contact us today for sales, service or help maximizing your efficiency.