The following post was provided by Tracey Cheesman at Mark-10, our featured manufacturer this month.  Mark-10 designs and manufactures force and torque measurement products including torque gauges, force gauges, & tension & compression measurement solutions. Mark-10 products are used to perform quality control testing across virtually every industry.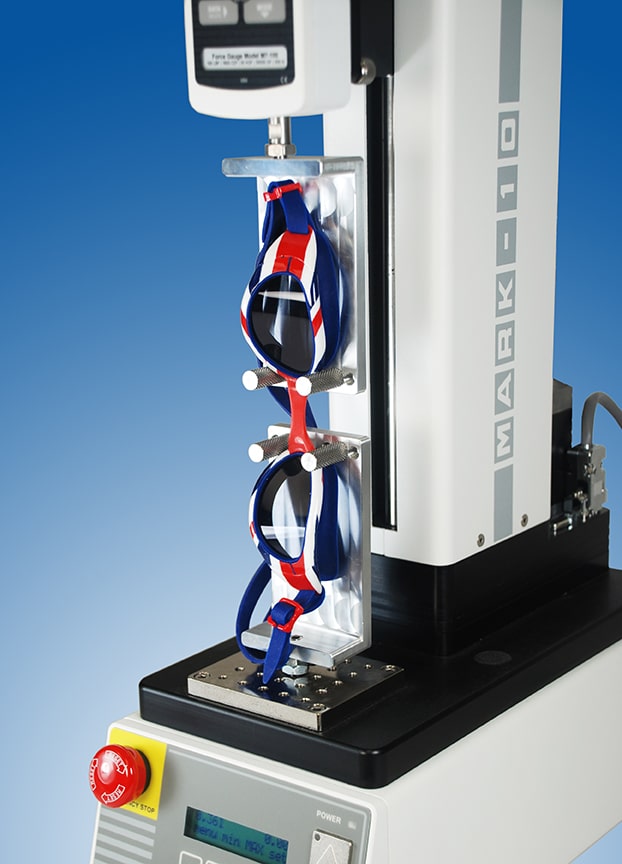 Using Force Measurement to Ensure Swim Goggle Quality & Durability
Many different types of product testing is performed before a product goes to market. Some tests are required by law for safety-related reasons, while other tests are performed by the manufacturer to ensure product quality. Force measurement plays a role in both types of product testing. In the example discussed below, a swim goggle manufacturer utilized Mark-10 force measurement equipment to determine the strength of goggle components, and the durability of the finished product.
With the summer swim season approaching, a new swim goggle purchase might be in your future.  Swim goggles are critical for any swimmer, whether recreational or competitive.   Since no one enjoys the feeling of chlorine or salty sea water in their eyes, choosing a quality pair of goggles is of utmost importance.  For a competitive swimmer, choosing a quality pair is vital.  Goggle straps and lens bridge sections must be durable & able to withstand enough force to provide protection during an important race.
Force testing helps determine durability
TYR Sport, a manufacturer of swimwear and athletic gear, contacted Mark-10, a manufacturer of force and torque measurement products, to help with tension testing of various components of their goggle product line. TYR's Engineering and Quality teams sought to ensure the durability of their goggles, particularly the rubber straps and lens bridge.
In order to test the strength of these components, the following tests were performed:
Pull the rubber strapping to a specified force, hold for a specified time, then cycle multiple times
Pull the rubber strapping to destruction, record force vs. displacement curve
Pull the lens rims to apply a minimum force to the bridge, hold for a specified time
Force measurement equipment is used in quality assurance testing
To conduct testing, Mark-10 recommended an ESM303 test stand with a force gauge and several types of grips. A custom fixture was designed to facilitate the lens bridge test.  Mark-10's MESURgauge Plus software, which records the data, plots curves, tabulates data, calculates statistics, and generates a customizable report, was used as well.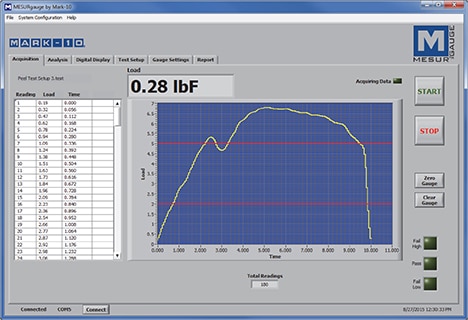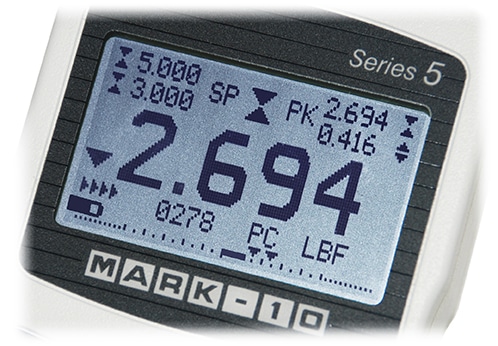 The Importance of Calibration in Quality Control Testing
The work is not over once a measurement system has been developed. After the system has been put in place, multiple tests need to be conducted each day to ensure consistency in the product quality over time.  The accuracy of each instrument will need to be verified  regularly through calibration. What is instrument calibration and why is it important?
Calibration is the process of comparing two readings – one reading is generated from a "standard" instrument, which you can think of as the control, and the other reading is produced by the instrument whose measurement is being tested, which you can think of as the test instrument.  Both instrument readings should match, or the test instrument reading should lie within the "calibration tolerance" of the standard instrument.
Calibration tolerance refers to the allowable error, or the amount of variation that is acceptable, between the value produced by the test instrument & the value produced by the standard instrument. This variance between values is "allowable" or "acceptable" because it is not a large enough difference to affect the final outcome of the action being performed with the test instrument.
How Often Should You Have Your Instruments Calibrated?
At a minimum, calibration should be conducted annually. However, frequent use or a required specification may necessitate more frequent calibration. Some factors to consider when establishing an instrument calibration schedule include the frequency of instrument use, any specifications provided by the equipment manufacturer, and any applicable regulations imposed by governing bodies.
Some applications require frequent instrument calibration to ensure quality or safety standards. In those situations, it is wise for the instrument users to invest in a spare force gauge or load cell, to minimize downtime & ensure testing can continue while an instrument is sent out for calibration.
Where Should You Have Your Equipment Calibrated?
Force gauges and/or load cells should be sent to a climate-controlled calibration laboratory like those at Michelli Weighing & Measurement. Michelli also provides ISO 17025 accredited calibration. With 24 locations in 10 states, it's easy to find a Michelli Weighing & Measurement calibration lab near you.
What type of calibration records should I keep?
Upon completion of your calibration, the laboratory should provide a NIST (National Institute of Standards and Technology) traceable certificate. Typically, "As found" and "As left" information is included on the certificate, so you can see how far outside of tolerance your instrument readings were prior to calibration. If you notice that your instrument was far outside of tolerance, you should consider more frequent calibration.
Calibration is essential in measurement processes. It helps to ensure instruments produce reliable measurements. In turn, those measurements allow manufacturers to produce reliable products, which help to keep the water out of your eyes.
Contact us today for your force measurement related needs
Michelli Weighing & Measurement product specialists & expert calibration technicians can help with force measurement equipment purchase, rental, calibration & repair. We service all makes & models.
Not sure what equipment to use for your force testing? We can help you with that too.