The following post was provided by Mountz Inc., the torque tool specialists. Engineered in the Silicon Valley since 1965 and leading around the globe, Mountz is committed to delivering the quality torque products and services our customers can rely upon so you can proceed with confidence.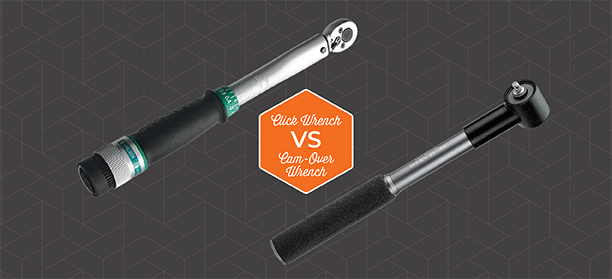 Click vs Cam-Over Technology
In any application where the fastening of bolts and screws is critical—which includes the aerospace, automotive, medical device, electronics, and packaging industries, to name a few—businesses depend on torque tools to deliver the precise amount of force necessary to hold a fastener in place indefinitely.
Whether you're in manufacturing or maintenance, the most important attributes your torque wrench should have are quality and reliability. And the best way to be sure the wrench you're investing in will hold up on the line is to choose the right torque wrench technology.
Applying the right amount of torque to each fastener maximizes its holding potential. When too much torque is applied, it can strip or crimp threads, damage the fastener, or harm the assembly. Under-tightening can cause a screw or bolt to work free under stress, vibration, and fall out.
Torque Wrench Mechanisms
In essence, all torque wrenches do the same thing. They apply a radial force to a fastener to tighten it or loosen it. In addition, the torque wrench must have some mechanism to limit the amount of torque their operator applies. The type of torque limiting mechanism is what separates different torque wrench technology.
Each class of wrench relies on different torque limitation methods, and different techniques are most effective for various applications. Selecting the appropriate wrench is essential as it will determine the type of technology and budget invested for the fastening solution.
Click Wrench Mechanism
The most common type of torque wrench in the world, and the simplest, is the click wrench (see Figure 1). Click wrenches are basic tools. Most click wrenches are built with an internal spring mechanism that is compressed against a lever.
Why is a Click Wrench Susceptible to Torque Failures?
A click wrench typically deflects by 3° and emits an audible "click" sound when the predetermined torque amount is reached. The click mechanism is not 100% process safe, as the wrench is easily susceptible to torque failures and over-torque results. Often an operator misses the "click" sound or does not feel the click movement. Since a click wrench does not physically prevent an operator from applying additional force, he/she could unknowingly be generating over-torque.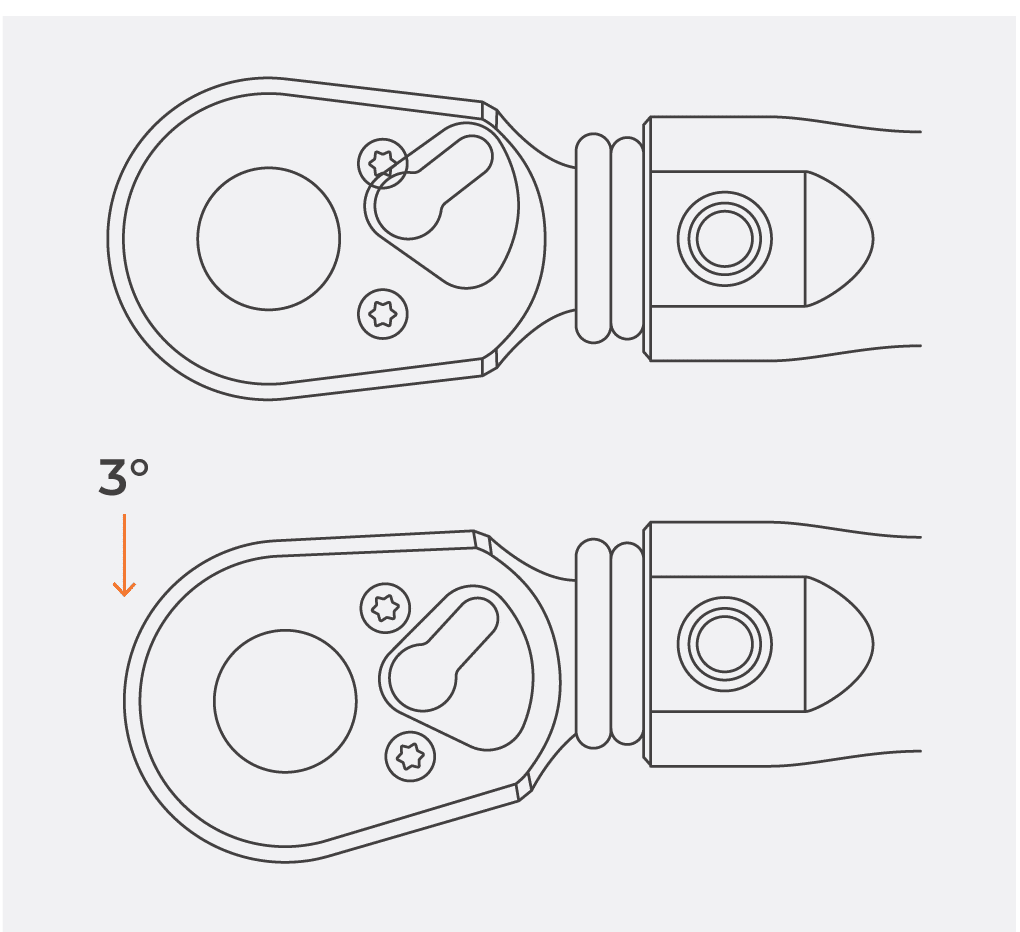 Figure 1 – Illustration of Click Torque Wrench Mechanism
Cam-Over Wrench Mechanism
The poka-yoke wrench features a cam-over technology that prevents over-torque. The wrench uses an internal cam-over mechanism to reduce the risk of operator error by disengaging once torque is reached (see Figure 2). This total control over the torque delivery renders cam-over wrenches ideal for the most critical torque applications.
Safeguarding against fastening failures requires you to deploy a torque wrench designed error-proofing for the assembly process. Implementing this error-proofing wrench removes the operator's influence from the torque equation and delivers a more accurate and repeatable fastening result than a standard click type wrench. You can provide a cam-over wrench to any operator and have the confidence that he/she will deliver the correct torque, time after time. See Figure 3 that compares wrench mechanisms.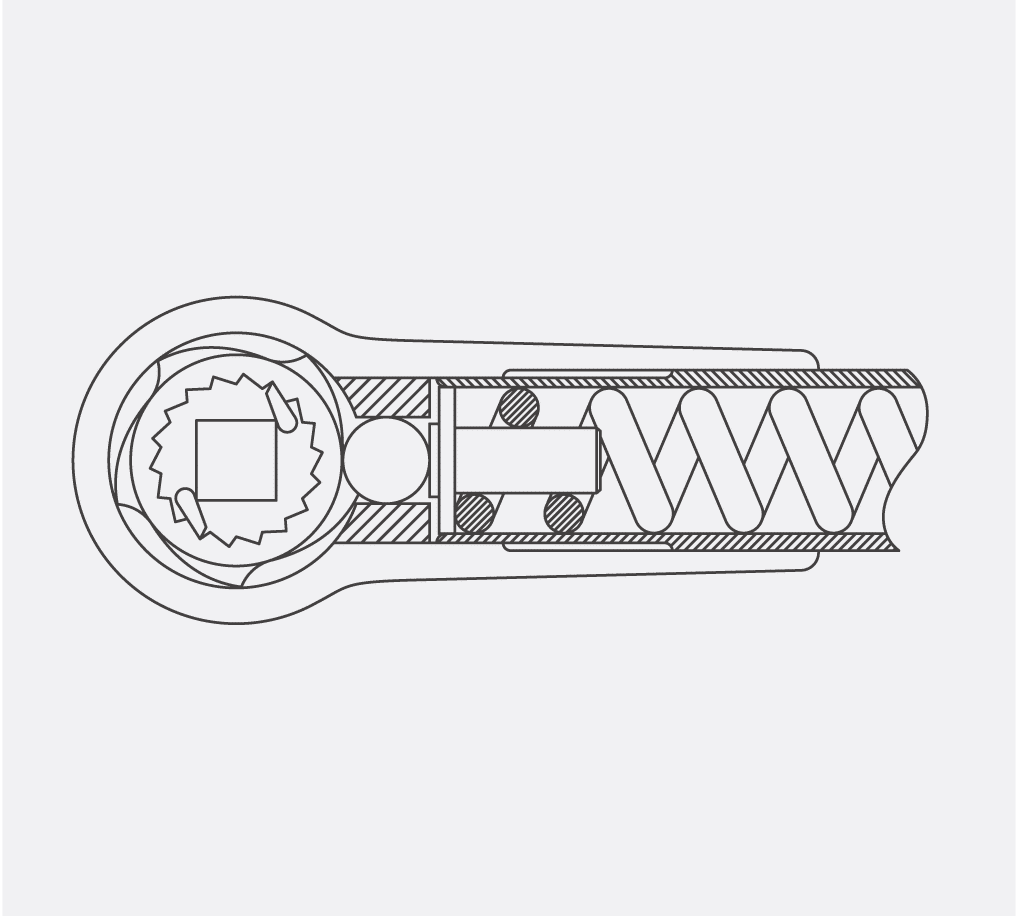 Figure 2 – Illustration of Cam-Over Torque Wrench Mechanism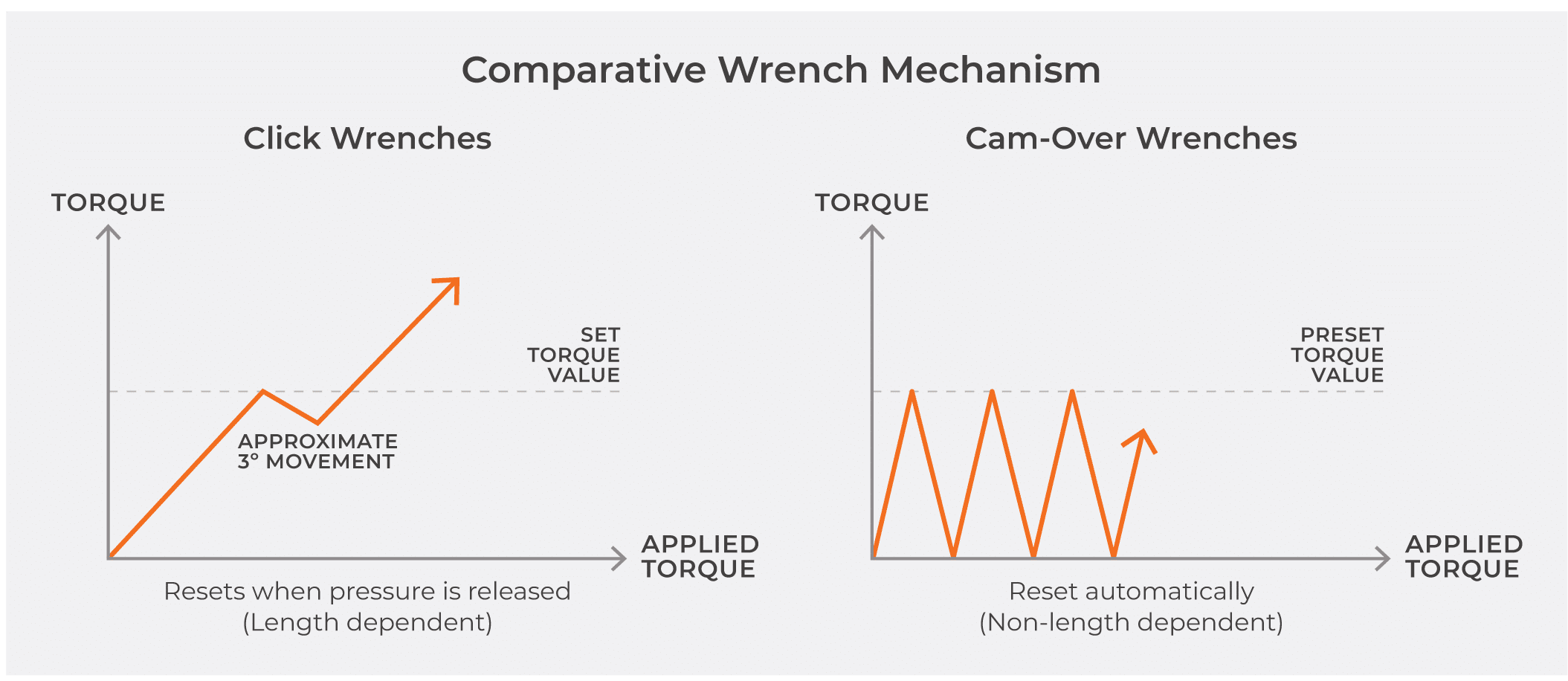 Making a Business Case for Upgrading Your Click Wrench to a Cam-Over Wrench
Click wrenches are so popular because they are inexpensive as compared to other types of torque tools. A click wrench doesn't stop the operator from applying too much torque—the tool simply informs the operator in time to stop themselves. The most obvious upgrade from a click wrench is to a cam-over torque wrench, which physically prevents its operator from applying too much torque. Stopping over-torque occurrences requires the deployment of a torque wrench designed for error-proofing the assembly process.
Error-proofing the tightening process improves manufacturers' quality control methods by reducing the number of defective products pulled from the assembly line and hedging the risk of liability from product failures in the field. A screw rattling loose in the avionics of a high-performance jet or from an implanted medical device can cause major liability and reputational damage.
Learn more about technology and quality differences between a click wrench versus a cam-over wrench.
Watch Video: Click Wrench vs. Cam-Over Wrench Demonstration
Ready to purchase your new cam-over torque wrench?
Request a quote today and your local Michelli Weighing & Measurement account manager will help match you with the right torque wrench for your application, your environment & your budget.