Pfreundt Wheel Loader Scales 
Wheel loader scales are an efficient and accurate way of loading material for hauling. Utilizing wheel loaders, sometimes called wheel weighers, is an added step that helps to ensure drivers are within the legal weight limits when hauling material. Drivers who haul loads that are overweight not only risk heavy fines if ticketed, but they risk their safety and the safety of other drivers as well. While wheel loader scales are not typically legal-for-trade, they do provide users with accurate, dependable results, and convenience.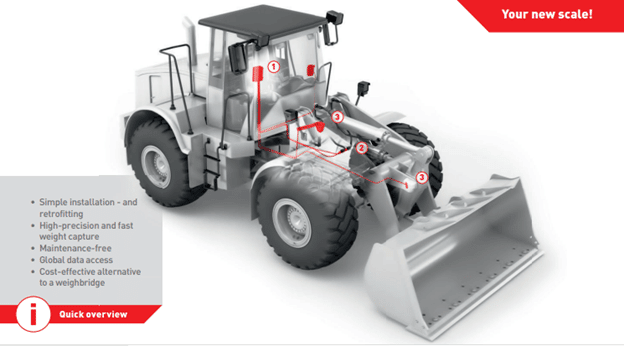 Why use wheel loaders?
The use of wheel loaders helps increase efficiency. By using the wheel weigher, the loader can calculate the weight of a load while he fills the hauler. By doing so, he can tally the weight that is added to the vessel to ensure that the total weight does not cause the hauler to be under weight, leaving valuable space available for more product, or overweight, putting the driver at risk.
Because the wheel loader is not legal-for-trade, the driver must still visit a certified truck scale. However, he can feel secure that he will be within the allowed weight limit when verifying his load, therefore eliminating worries about wasted DOT hours spent returning to the facility to add or discard product. By saving that time, the driver is also saving his company money.
How do wheel loader scales work?
The wheel loader scales use a hydraulic sensor kit. This kit must be installed in the loader. These sensors are very sensitive and can quickly measure the weight of material being lifted by the equipment.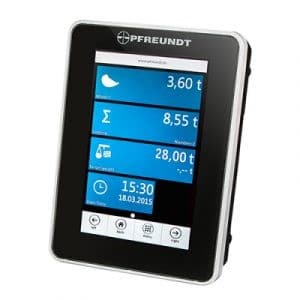 Key Benefits of Wheel Loader Scales:
Compatibility with all makes/models of wheel loaders
Simple, user-friendly interface to operate
Ability to provide precise results in the toughest environments
Low maintenance equipment
Several communication protocol options
In-motion weighing
Built-in printer options
Easily serviced in the field
Which industries use wheel weighers?
Wheel weighers can be used in many industries, including but not limited to the following: demolition, construction, logging, carpentry, agriculture, quarries, mining and waste management.
The overall benefit of wheel loader scales is to reduce overhead costs for the customer by increasing efficiency, shortening transport time, streamlining routes, and minimizing costs associated with shipping and loading.

Request a Quote for a Pfreundt Wheel Loader Scale Today
Speak to a Michelli Weighing & Measurement product expert about a wheel weigher scale today.