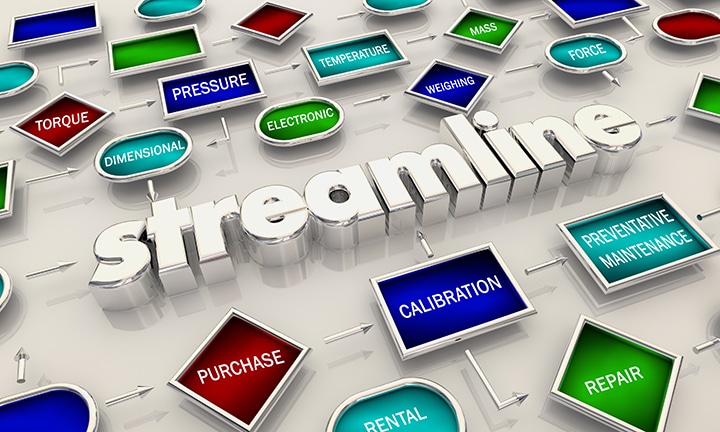 How can we help you streamline weighing & measurement services?
Looking for ways to streamline this year? We can help with that. In addition to heavy capacity equipment like truck scales & rail scales, Michelli sells and services precision measurement devices, including calipers, torque wrenches, and more. Our product specialists can match you with the right products for your application, based on your environment. The Michelli calibration technicians help ensure your equipment produces accurate readings, and the Michelli service technicians help you maintain your equipment with regular maintenance, so you get the most out of your investment.
What weighing & measurement equipment can we help with?
From the intake of raw materials to the export of finished products, weighing & measurement equipment is used throughout every operational unit of a production environment. Many people don't realize the crucial role that measurement equipment like scales, torque wrenches, and micrometers play in production.
The use of quality equipment, that is regularly serviced & calibrated, helps ensure that your operations run smoothly & safely. Sourcing & maintaining this equipment can take a great deal of time away from normal operations, but you can streamline those activities by outsourcing to Michelli Weighing & Measurement. The Michelli team provides scale & measurement equipment rental, sales, service & calibration. We represent an array of high quality equipment manufacturers, and service equipment in a wide range of measurement disciplines.
Ready to streamline your weighing & measurement equipment maintenance? Learn how we can help in each area of a production plant below.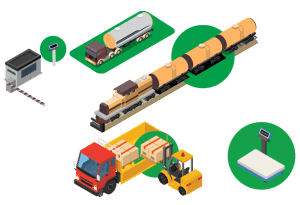 Receiving
From the moment materials enter your facility, they are weighed or measured in some way. You may use a rail scale or truck scale to ensure freight shipments are complete. Perhaps you use a floor scale to weigh incoming pallets, or for added efficiency, a forklift scale to measure pallets while you move them from the truck to the warehouse. 
Receiving equipment examples:
Truck scales
Rail scales
Bench scales
Floor scales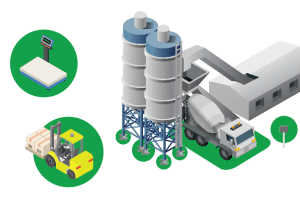 Storage & Warehousing
Weighing or measurement equipment is used at almost every point in storage and warehousing operations. Scales may be used to decrease safety risks, such as truck scales, or increase efficiency, as is the case with forklift scales. In other storage operations, scales can be used to monitor inventory, such as hopper scales.
Storage/Warehousing equipment examples:
Hopper scales
Tanks scales
Floor scales
Forklift scales
Conveyor/belt scales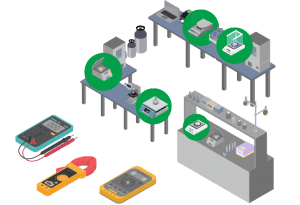 Laboratory
From precision measurement devices used to measure temperature or humidity, to laboratory balances used to measure mass with high precision, a laboratory is filled with weighing & measurement equipment. In addition to finding a source for the equipment, you need a trustworthy expert who can perform both standard & accredited calibration, as well as preventative maintenance on all of that equipment to ensure your measurements are accurate.
Laboratory equipment examples:
Lab balances
Thermometers/temperature
Moisture analyzers
PH meters
Timers/frequency
Dry block
Tension/compression machines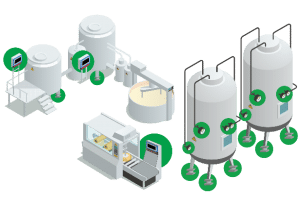 Blending & Process Weighing
Blending and process weighing operations rely heavily on accurate weighing & measurement equipment. For example, integrating weighing & measurement equipment with a PLC may be required to ensure you can automatically produce identical batches of product. Pressure gauges & thermometers are used to ensure batches are being mixed correctly. All of this equipment requires regular service & calibration.
Blending & process weighing equipment examples:
PLC Integration Services
Weigh modules/sensors
Floor scales
Pressure transmitters
Thermometers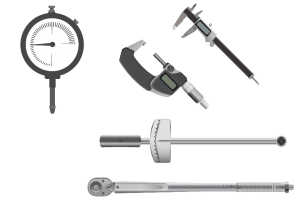 Machining & Fabrication
Lots of precision measurement devices are used in machining & fabrication operations, such as torque wrenches, vernier calipers, and micrometers. Each of these devices requires regular calibration to make sure that the measurements being produced by each is accurate. Without regular calibration, there is no way to make certain that the products are being produced at the correct specifications.
Machining & fabrication equipment examples:
Micrometers/calipers
Surface plates
Dial indicators
Thermometers
Torque wrenches
Protractors
Welding machine calibration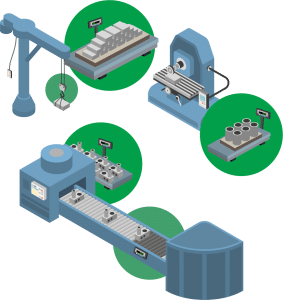 Assembly
Assembly operations utilize many different types of weighing & measurement equipment. During pre-assembly, you might utilize a high precision counting scale to ensure you have the correct amount of parts. After assembly, you might use a more rugged bench scale to make sure the "final" product is within the target weight range, and prevent mistakes or incomplete products moving any further through the production process.
Assembly equipment examples:
Counting scales
Bench scales
Torque wrenches/screwdrivers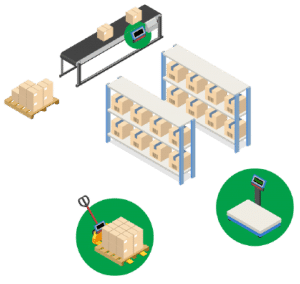 Packaging & Labeling
During packaging & labeling operations, teams prepare for products to leave the facility. Weighing & measurement equipment, like drum fillers for example, can be used to streamline your packaging activities. In many cases, scales & other types of measurement equipment are necessary to conduct labeling operations when prepping your goods for shipping.
Packaging & labeling equipment examples:
Checkweighers
Bench scales
Printers
Drum filling/pail filling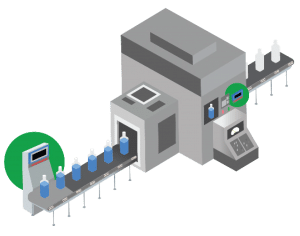 Inspection
Weighing and measurement equipment is heavily used to increase efficiency in inspection operations. For example, in-motion checkweighers can be used to ensure products & packages are within the target weight range, and can alert quality control workers if something is too heavy or too light, so it can be removed before leaving the facility. Other equipment like in-motion metal detectors help ensure no foreign bodies are in finished products, such as chicken breasts, helping companies remain in compliance.
Inspection equipment examples:
Metal detectors
Vision inspection
In-motion checkweighers
Checkweighers

Quality Control & Product Testing
There are many operations after the initial inspection of products, including quality control product testing. These operations rely heavily on weighing & measurement to help ensure safety, accessibility and more. For example, proof testing may be performed to see how much weight an object like a tarpaulin can hold before ripping. (See a video of this process here) Companies may utilize peel testing to determine the amount of force required to remove a label from a jar of seasoning, or elasticity testing to determine how far a rubber band can stretch before it pops. The machines used to perform these tests require regular maintenance & calibration. 
Quality control & product testing equipment examples:
Dynamometers
Torque testing
Peel testing
Elasticity testing
Push/pull testing
Thickness gauges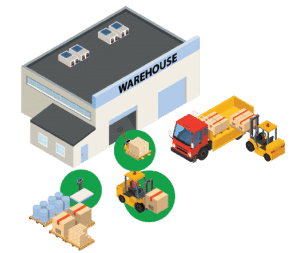 Shipping
During shipping operations, weighing & measurement is a necessity. In order to prepare your products to leave the facility & be distributed, you might utilize pallet jack scales while loading, or truck scales to ensure you're under the legal weight limit & in compliance. In logistics operations of larger scale, air or rail freight for example, accurate measurement could mean the difference in life & death.
Shipping equipment examples:
Floor scales
Bench scales
Forklift scales
Pallet jack scales
Vehicle scale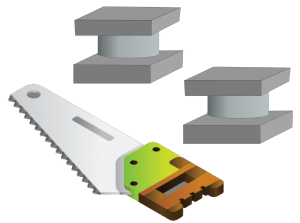 Store Room & Consumables
It's always a good idea to keep spare parts on-site when your weighing & measurement equipment is critical to operations. For example, if lightning strikes your truck scale & knocks out a load cell, having spare load cells in a store room is a great way to ensure downtime doesn't become a factor. It's also a good idea to use 1 vendor for consumables such as label/ticket printer paper & print heads. Michelli can not only sell you a truck scale & provide service, but also offers highly competitive pricing on all of the accessories you need to get your kiosk up & running too. 
Store room & consumable equipment examples:
Load cells
Spare parts
Labels/tickets
Print heads
Saw blades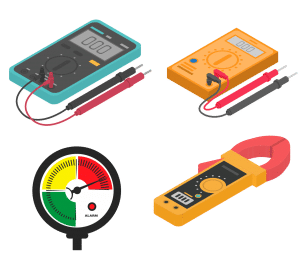 I&E & Maintenance Departments
Maintenance departments need a vendor to whom they can turn for preventative maintenance, repairs & calibration of weighing & measurement equipment they use every day. Instrumentation & Electrical departments need quality measurement equipment & calibration services on devices like voltage meters, oscilloscopes, test benches and more. 
Michelli Weighing & Measurement is a great source for precision measurement devices in a wide range of measurement disciplines. Plus, our calibration experts can help ensure your equipment stays accurate, which is especially important when you're talking about the measurement of things like electrical current.
I&E/Maintenance equipment examples:
Fluke meters
Oscilloscopes
Precision measurement device calibration
Pressure gauges
Torque wrenches
Test benches
Electrical meters
Infrared thermometers
How do you maintain your equipment?
Dependable weighing & measurement equipment is imperative to success, but who has the time to research & compare equipment? How do you set a preventative schedule that is sustainable & actually helps increase equipment life? Lastly, to remain in compliance & ensure measurement accuracy, you will need to set & stick to a calibration schedule. Don't interrupt your day-to-day operations. Use the Michelli Weighing & Measurement team to streamline your equipment maintenance.
Why choose Michelli Weighing & Measurement?
Simplify your vendor list to minimize administrative & accounting activities
Streamline your equipment maintenance – 1 vendor for preventative maintenance, emergency service & repair services
Form a sustainable calibration schedule to stay in compliance
Trust the measurement experts with all of your measurement equipment
Streamline Your Weighing & Measurement Services
Don't use multiple vendors for each measurement discipline.
Choose Michelli Weighing & Measurement for equipment sales, rentals, and service, including both standard NIST traceable calibration & ISO 17025 accredited calibration.