What is an Unmanned Truck Scale Kiosk?
An unmanned truck scale kiosk allows scale users to conduct their transaction without ever coming into physical contact with another human being. Kiosks are flexible, and available with different features to serve a variety of functions. The main goals of truck scale kiosks are to reduce risk, improve safety & increase efficiency by reducing human interaction. Most existing truck scales can be outfitted with an unmanned truck scale kiosk and other accessories to help reduce the amount of manpower required to conduct weighing operations. Companies should carefully consider all available options before installing an unmanned truck scale kiosk to ensure they get the most out of their investment.
Scale Kiosk Configuration Options
Scale kiosks are available in a wide variety of configurations, designed to help customize the user experience. For example, some truck scale kiosks include an RFID reader that allows drivers to scan a card for more efficient weighing, or speakers to enable communication. Programmable scale kiosks allow companies to pre-program options that guide users through the transaction, including input prompts like truck ID, trailer number, and even product type. (See video below)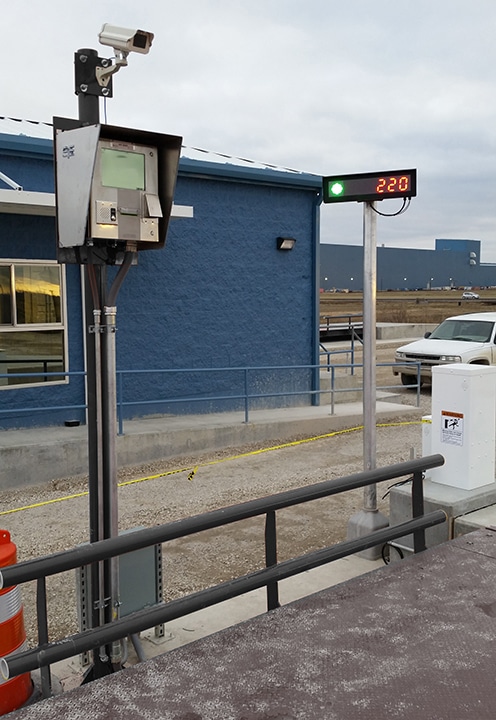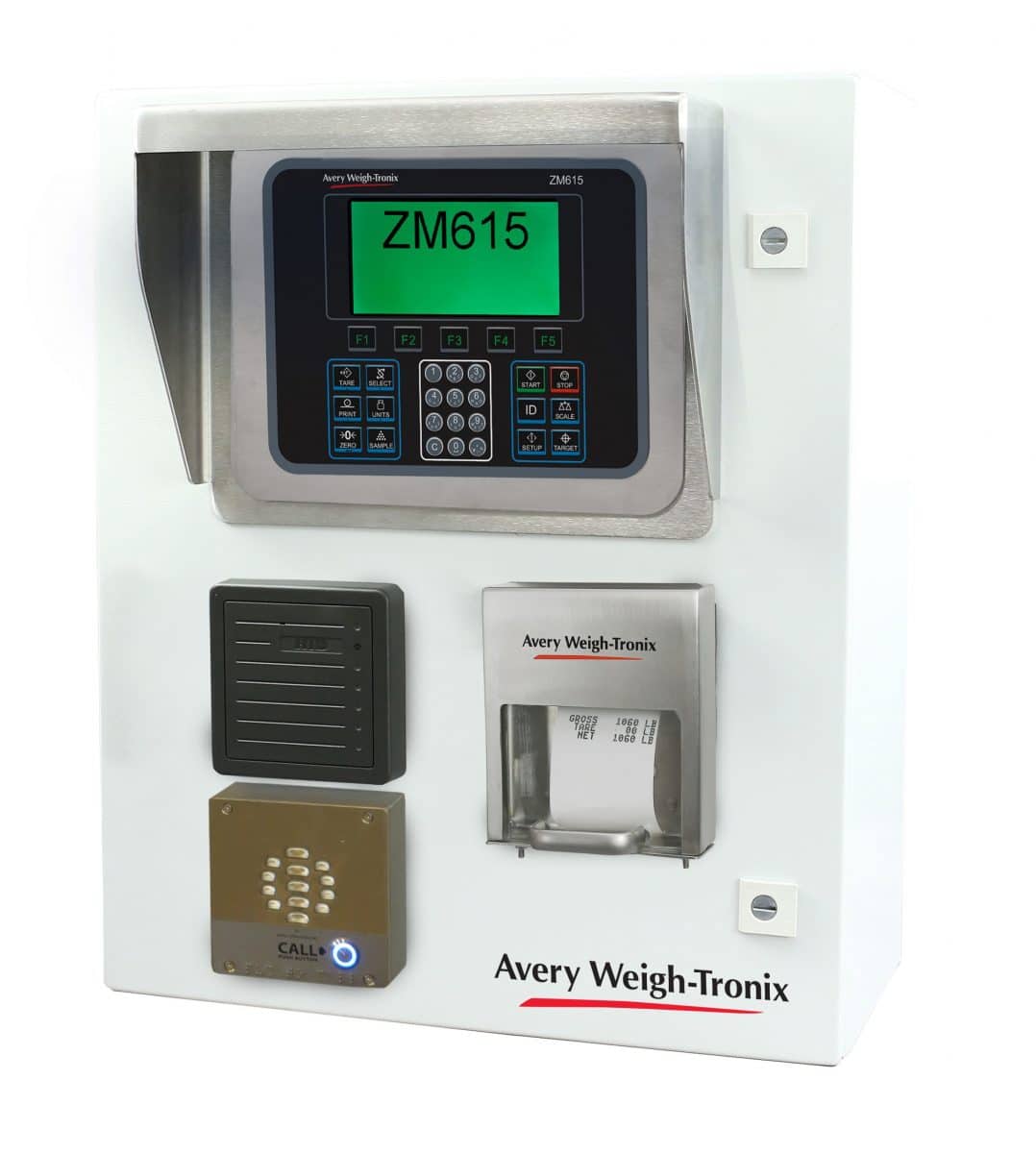 Scale Kiosk Installation Options
There are also different installation options for unmanned truck scale kiosks. For example, combining scale kiosks with cameras that capture license plate information can help prevent theft or improper use of the scale, as well as enriching data.
No power? No problem. Solar powered unmanned truck scale kiosks allow companies to utilize this amazing technology in even the most remote locations.
Kiosks can be mounted to the scale house or mounted on poles. Those mounted on poles allow truck drivers to use the kiosk without ever leaving the cab of the truck. In this case, the unmanned kiosk helps increase efficiency and reduce risk of injury.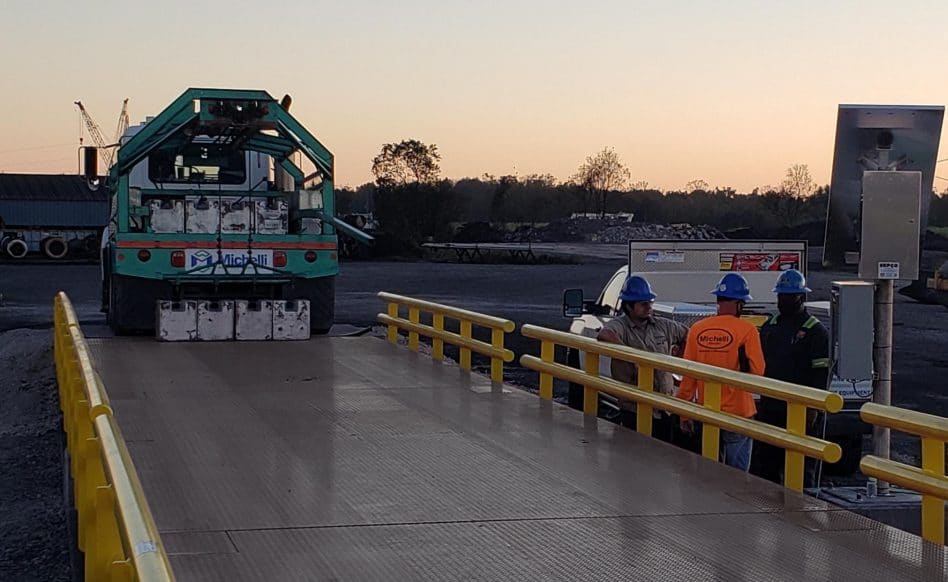 Unmanned Truck Scale Kiosk In Use
In this video, a Michelli Weighing & Measurement customer uses a combination of products to allow drivers to use their truck scale without ever interacting with another human. The scale uses a traffic light, remote display scoreboard and cameras to notify drivers when it is safe to roll onto the scale, and when to stop to allow an accurate weight to be captured. Then, drivers use an unmanned truck scale kiosk with a card reader to identify their company, enter their truck & trailer information, and choose the type of product they are hauling. Once the transaction is complete, the driver receives a ticket. The weight data is captured and recorded in the company's system as well.
How Unmanned Truck Scale Kiosks Help Reduce Risk and Increase Efficiency
How Kiosks Reduce Risk
By removing or minimizing human interaction, unmanned scale kiosks help reduce risks in many ways. For example, if scale house employees & scale users are not interacting face to face, the risk of spreading infectious diseases is greatly reduced. For unmanned truck scale kiosks that allow drivers to remain in their cab for the entirety of the transaction, the risk of injury is severely minimized as well.
How Kiosks Increase Efficiency
Unmanned truck scale kiosks help increase efficiency by streamlining the weighing process. The kiosks allow drivers to enter the information they need, get a weight ticket, and continue on their way without any delays. Also, combining unmanned kiosks with components like traffic lights and RFID readers can make the process even simpler for drivers, minimizing total transaction time per truck and allowing more trucks across the scale each day.
Kiosks Can Enable Data Collection
Unmanned truck scale kiosks can collect the data acquired in each transaction, then transmit it to a spreadsheet. That spreadsheet can be accessed by employees at the end of each day, week or month to enable effortless and accurate recordkeeping. Using the kiosk to conduct data collection enables companies to greatly reduce the hours of manual labor required for weighing operations, and the risk of human error.
There are many benefits to utilizing unmanned scale kiosks. Whether companies are concerned with improving safety, increasing efficiency, minimizing human error, or a combination of the three, unmanned truck scale kiosks offer a great solution. 
Is an unmanned truck scale kiosk is right for your application?
The Michelli Weighing & Measurement team can help determine if an unmanned truck scale kiosk is a good fit for your application. Contact your nearest Michelli location today to schedule a consultation. Our experts will explain the pros and cons to help you decide.