The following post was provided by Rice Lake. Rice Lake Weighing Systems is a family-owned, ISO 9001:2015 certified corporation, and has been manufacturing and distributing weight-related products and supplies since 1946. Within the company, progressive new technologies merge with the wisdom of industry experience to create the future of weighing through cutting-edge research and design.
Rice Lake Weighing Systems' overhead weighing solutions include equipment such as crane scales, dynamometers and integrated solutions, as well as indicators, remote displays and wireless network solutions. To ensure that workplace operations are safe, these solutions are designed to meet or exceed local and federal safety regulations.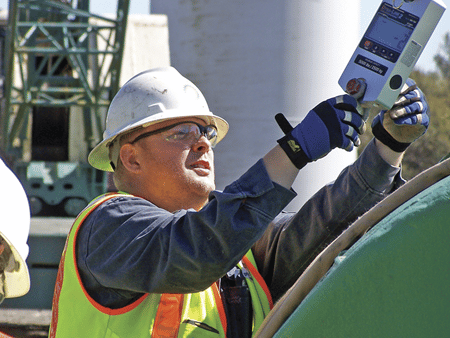 Crane Scales
Crane scales are designed to handle a range of operations. Lighter capacity crane scales are commonly used for indoor applications. In contrast, both medium and heavy capacity crane scales are used in bulk material handling, shipping and receiving, metal foundries and Class D electric bridge crane applications. To remain safe in potentially explosive environments, heavy-duty crane scales are certified by FM and ATEX. Crane scales are also commonly used in port shipping or industrial fishing operations.
Operators can monitor a load from a safe distance with the crane scale's integrated display. To support safe crane operation at multiple locations, most crane scale models provide wireless communication to remote handheld or mounted displays. Medium to heavy capacity crane scales without an integrated display take advantage of wireless network communication by connecting to remote displays.
Dynamometers
Dynamometers, also known as tension link dynamometers or dyna links, can be used to measure either vertical or horizontal tension. These overhead weighing solutions are rugged but lightweight, making them ideal for straight-line lifting applications like rigging, load tests, crane and elevator certification. Connecting dyna links to remote displays through wireless networks enables safe, long-distance viewing.
Integrated Solutions
Integrated systems efficiently replace load bearing components and fit seamlessly into existing equipment. To turn a crane or pulley system into a force monitoring system, a shear web load cell or a clevis load pin sensor can be added to the equipment. Additionally, a clamp-on load cell measures wire rope tension for overhead cranes and hoists.
For applications with existing infrastructure, industry standards, capacity or environment constraints, an integrated overhead weighing solution is helpful. Rice Lake's load pins have an accuracy of 1% or better when tested with NIST calibration weights. It is important to perform an initial calibration, as well as regular system recalibrations, to ensure your weighing system maintains its accuracy.
Integrated solutions can help prevent overloads through constant load monitoring. Customization allows integrated solutions to meet the specific overhead weighing needs of every application.
Indicators, Remote Displays and Wireless Network Solutions
Remote displays and indicators can be handheld or wall-mounted units and add an extra layer of safety, efficiency and control to overhead weighing solutions. Indicators use real-time information to increase process control and easy programming to warn for overloads. Remote displays, also known as repeaters or scoreboards, can also be added to the wireless network so weight is visible in several locations.
To easily connect overhead weighing solutions to indicators and remote displays, a wireless network solution is needed. Because of its ability to connect systems of different operating distances, this wireless network solution can connect a load cell to a remote indicator, or an indicator to a computer.
MSI Overhead Weighing Solutions
Since 1977, Rice Lake's Measurement Systems International (MSI) has been delivering a comprehensive line of overhead weighing solutions. MSI overhead weighing includes a wide range of solutions such as crane scales, integrated solutions, dynamometers, remote displays and wireless network solutions. Most MSI products use ScaleCore for equipment configuration and setup. For example, multiple MSI crane scales being used to lift material with more than one pick point can be connected to operate as one scale using ScaleCore.
Rice Lake's wide range of MSI overhead weighing solutions, paired with our experienced staff at Michelli Weighing & Measurement, ensures the safety and quality of any overhead weighing application. Contact us to learn more about Rice Lake's line of MSI products.
Need Help Choosing the Best Overhead Weighing Solution?
Contact your nearest Michelli location to speak with an expert who can answer your questions and recommend an overhead weighing solution for your application and environment.