What is a weighing system & how could it help you?
A weighing system utilizes scales & other measurement devices to help perform an operation. Weighing systems are used in many applications, including automation, quality control, data collection & more. These systems help increase efficiency, decrease deviation from a set standard, and can even make data management effortless. There are many types of weighing systems, and Michelli Weighing & Measurement works closely with customers to develop the best system for their specific needs.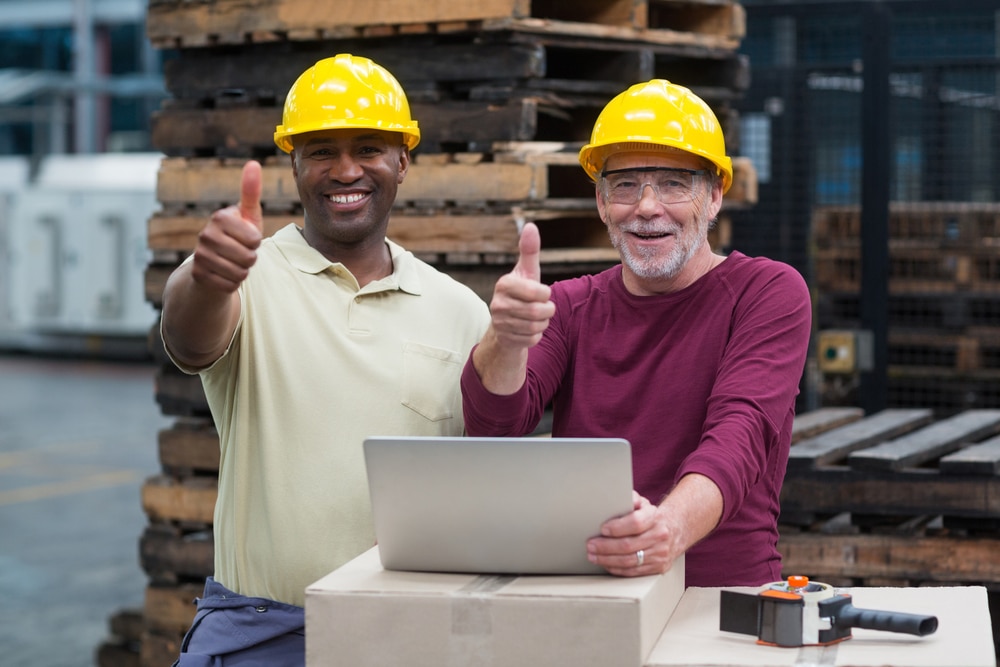 Data Management Capabilities
Michelli Weighing & Measurement incorporates data management capabilities into weighing systems to allow our customers to record information automatically. While the data that is collected varies based on application, as does the method in which that data is relayed & stored, all forms of data are essential to monitoring operations & improving productivity.
The Michelli Weighing & Measurement team works very closely with customers to determine what type of data should be collected, how often, how it should be organized & where it should be stored. Some weighing systems are even designed to transmit information over a secure server to be viewed remotely.
Data tracking capabilities can be incorporated into many weighing systems. For example, data tracking in a quality control system might record 350 products produced in 1 day, of which 60 were over/under the target weight & were therefore rejected. The system would compile a report, which can be saved to a computer, or pushed to a URL for management to review.
Management could look at the report, realize there is a 17% rejection rate, identify the outliers & determine a cause. Did the rejections occur during 1 shift, or throughout 1 batch, or randomly? Management can then dive further into the issue & adjust operations accordingly.
Quality Control Weighing Systems
Quality control weighing systems are heavily used in the food & beverage industry and the manufacturing industry. Weighing systems can be incorporated into operations to perform a wide variety of tasks that help ensure product consistency & maintain safety guidelines. The Michelli team can help with quality control weighing system development, including everything from inspection systems to batching & mixing systems.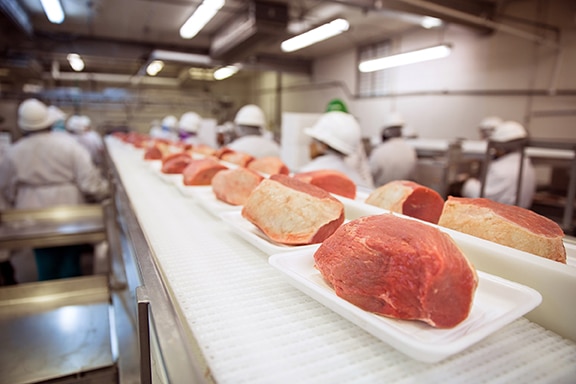 Automated Rejection Systems
To better understand quality control weighing systems, imagine the operations of the food processing industry, where weighing equipment is often used in conjunction with conveyor systems. Quality control weighing systems are often incorporated to ensure that all products meet a specific standard. For example, within a poultry plant, you might find an automated rejection weighing system. In that type of system, chicken breasts travel down a conveyor belt toward an in-motion checkweigher which is programmed to activate a mechanical lever if a product is not within a certain weight range.
The operator might set the target weight for each chicken breast at 12 oz., with an allowed tolerance of +/-1 oz. If any of the chicken breasts traveling on the conveyor belt weigh under 11 ounces, or over 13 ounces, they will be rejected upon reaching the checkweigher. The rejected chicken breasts would be pushed off of the conveyor belt by the mechanical lever, then sent to a different line for further processing.
Any chicken breasts within the target weight range will be allowed to continue through to the packaging department. This weighing system ensures uniformity & allows the packaging department to focus solely on packing operations, increasing speed & saving time.
In other quality control weighing systems, the Michelli Weighing & Measurement team might program the scale to illuminate a red light, make a certain noise, or otherwise emit a signal to notify workers that the product running across it is not within the target weight or tolerance. Workers could then remove the product from the line before it was packaged & sold.
Inspection weighing systems help to ensure that no foreign materials are contained within the product, such as bone or other foreign materials. Often, metal detectors are incorporated into inspection weighing systems to verify that the products comply with safety guidelines & do not contain metal contaminants.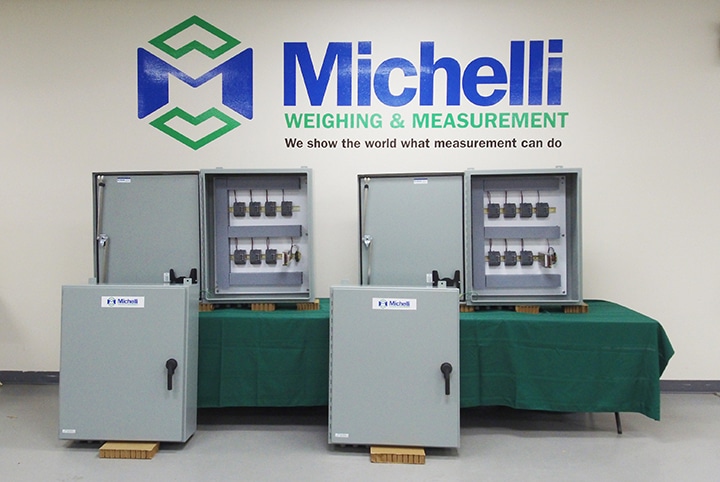 Batching Weighing Systems
In a batching operation, load cells are attached to containers, tanks, or hoppers that hold ingredients. These load cells utilize signal converters to communicate the amount of each ingredient to a PLC. The PLC is programmed to add specific amounts of each ingredient to a large vat by opening a valve. When the correct amount of the ingredient has been released, the valve closes. Those ingredients are then combined to form the final product.
This process ensures that products like cookie dough, dish soap & even chemical/petrochemical mixtures contain the correct amounts of ingredients to meet both quality standards & customer expectations. These batching weighing systems help remove the risk of human error associated with manually measuring & mixing, to ensure uniformity in the final product. Click here to visit our Video Gallery and watch our short video explaining a batching weighing system.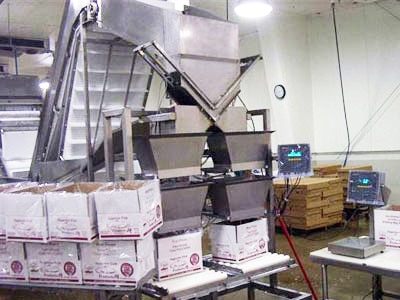 Filling Weighing Systems
Filling weighing systems may be used in a wide range of industries. You can watch the Michelli Weighing & Measurement video "How to Use a Scale to Automate Filling Operations" to learn about a supersack filling weighing system. In that weighing system, the supply hopper fills a supersack with material. As the supersack is filled & begins to approach the target weight, a valve partially closes to slow the flow of material & ensure the correct amount is released. When the target weight is reached, the valve closes completely so that the supersack contains only the desired amount of material.
Truck Scale Weighing Systems
Truck scales perform an essential function in many applications, from aggregate yards who charge & sell by the pound, to logistics companies who use weighing systems to remain in compliance. Truck scale weighing systems allow organizations to control the data tracking & data management aspects of operations, and create a process tailored to their needs to streamline their processes.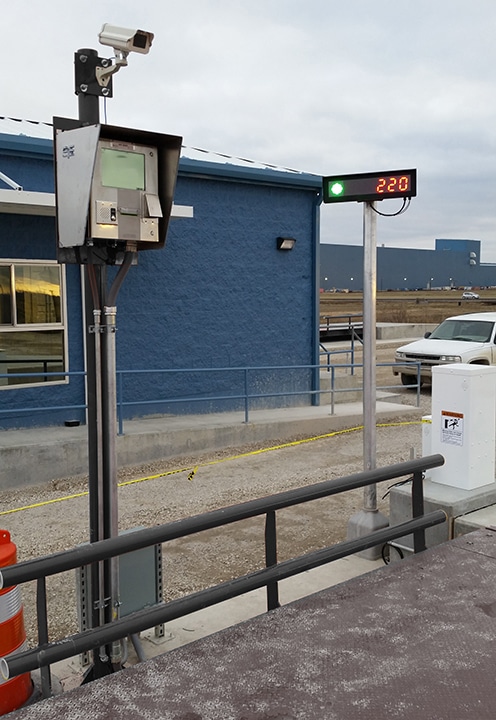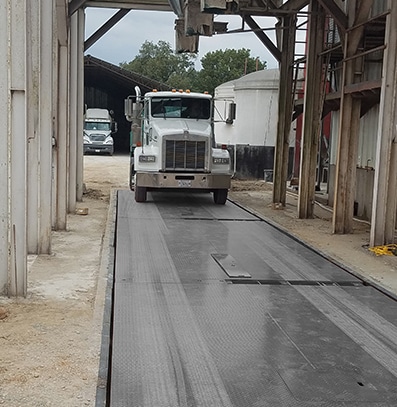 Un-manned kiosk weighing systems
Un-manned kiosk weighing systems reduce labor costs by allowing truck drivers to conduct their own administrative functions. A Michelli Weighing & Measurement expert can design the truck scale weighing system to read RFID cards, take photos of license plates, or even accept login codes that link the load & weighment to a certain driver or customer.
These systems increase efficiency & reduce costs by compiling the data into a daily, weekly, monthly or annual report. This data allows the administrative staff to monitor activity and compare cost of goods sold with the amount of goods sold to minimize monetary loss.
Imagine a truck scale weighing system that utilizes RFID cards to identify drivers, records the weight of the trailers, and takes a photo of the license plate before printing a ticket. When using this weighing system, the driver might then take the ticket to the operator to pay or be paid based on the weight of the trailer.
What if the printer runs out of paper, or the scale operator is busy? Michelli Weighing & Measurement can also design truck scale systems to relay information to a database, where it's recorded. In some situations, companies collect this information, then issue payments to the driver or company on a regular basis, without ever having to manually record a pound.
In-motion truck scale weighing systems
In-motion truck scale weighing systems help to eliminate long lines of trucks waiting to be weighed on busy days. When using these systems, truck drivers continue moving forward across the scale, while the weight is displayed remotely on a scoreboard and inside the scale house. Most in-motion truck scale weighing systems are set to a maximum target weight. If a truck is over or under the target weight, a red light or other type of alert notifies the driver so he/she can make the necessary adjustments.
In-motion truck scale systems serve two purposes: safety & value. If the only trucks exiting the plant are those that meet US DOT requirements, safety risks are reduced & drivers are in compliance. Also, by ensuring that all outbound trucks are fully loaded to capacity, companies ensure they are shipping the maximum amount of product & not wasting their transportation dollars.
On-board weighing systems
On-board weighing systems allow you to weigh trailers during loading, which helps to prevent underloading or overloading. This type of weighing system helps organizations ensure all trucks & trailers are loaded to the correct capacity from the start. On-board weighing systems help eliminate loss of time and labor spent on unloading an overweight truck, or turning an underweight truck around at the scales to add more product before its departure.
Weighing Systems Help You Work Smarter
The Michelli Weighing & Measurement team has developed many types of weighing systems for a wide range of applications & industries all over the world. The one thing all weighing systems have in common is that they help employees work smarter.
By utilizing scales & measurement equipment to streamline operations, organizations can devote more time to advanced tasks that require closer attention. Weighing systems also remove a certain degree of human error. Regular calibration & preventative maintenance help ensure that weighing systems continue to produce the most accurate results possible.
Interested in how you could incorporate a weighing system?
Give us a call to speak to a Michelli Weighing & Measurement expert about your operations. Even if you're not sure what type of weighing system you need, the Michelli team can help. We work with customers to review their processes & identify where scales & measurement equipment might be utilized. We will help develop a weighing system that increases efficiency and includes the right equipment for your environment.
We show the world what measurement can do. Let us develop a weighing system for you.