Michelli can help with scale maintenance
The Michelli Weighing & Measurement service team provides scale maintenance services. Our experts highly encourage regularly scheduled preventative scale maintenance to help keep your equipment running in peak condition and to increase its longevity.
What sorts of preventative maintenance does Michelli perform?
The following list includes just a few examples of the many ways we can help:
Scale pit cleaning to remove build up on top of, or underneath, the scale
Jack & grease all mechanical connections to reduce friction & wear
Advise on sump pump placement prior to installation to ensure proper draining
Replace sump pumps to maintain draining capabilities
Replace T-belting to prevent buildup from slipping beneath the scale platform
Replace junction boxes and/or gaskets to ensure adequate insulation
Repair or replace grounding systems to protect against lightning or electrical surges
In this post, we take a look at common scale issues we run into during the Winter months. Read on for those issues, as well as maintenance solutions you can implement to prevent these problems from occurring.
You can find your nearest Michelli office here to contact us by phone, or request a quote online today.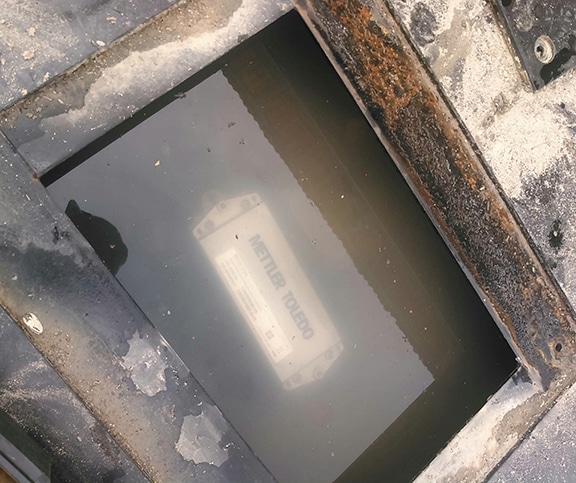 Problem:
Your scale or its components are at risk of flooding during heavy rain.
Solution:
The installation of proper drainage systems helps to reduce the risk of losing equipment to flooding. After installation, maintaining the drain so that it remains unobstructed is imperative to ensure proper functioning during inclement weather.
Why it matters
Water intrusion can ruin the electronics & load cell that make the scale work. If your equipment was only briefly submerged, it may survive. When equipment remains submerged under water, it may experience irreparable damage.
Problem:
Condensation from rain or thawing can reach & damage scale electronics.
Solution:
Ensuring that all junction boxes & gaskets are in good condition to prevent water intrusion in electronics like cells, & cable connections. Replace old gaskets & junction boxes as needed to avoid the cost associated with replacing scale electronics.
Why it matters
Water damages electronics. Using gaskets & other types of insulation are the only way to protect your equipment from the elements. Gaskets can become worn over time as a result of sun exposure, use, or damage. As these gaskets become worn, their ability to keep water out is greatly reduced. The cost to replace a gasket is much less than the cost to replace electronic components.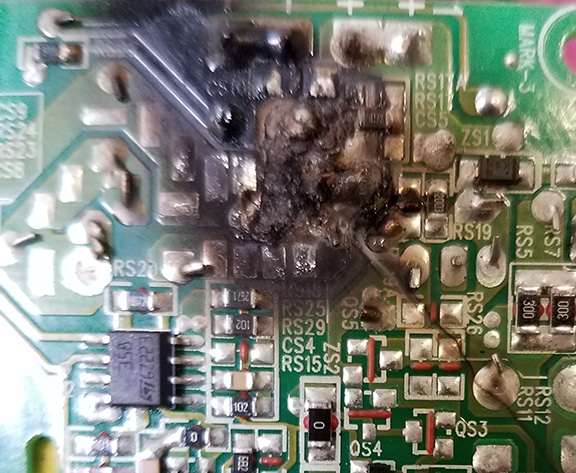 Problem:
A lightning strike could damage your scale & cause irreparable damage. 
Solution:
Proper installation is key to ensure your scale is grounded per the manufacturer's specifications. Regularly clean ground points to ensure that they aren't covered in mud or corroded. Ensure proper drainage around scale to prevent sitting water.
Why it matters
Without proper installation by trained professionals, your scale is very susceptible to lightning damage. In addition to improper installation, build up & debris on grounding points can greatly reduce their effectiveness to protect your equipment from a lightning strike.
Minimize water exposure to reduce risks. Corrosion affects conductivity, so ground points covered in corrosion are less able to protect your scale from the effects of lightning.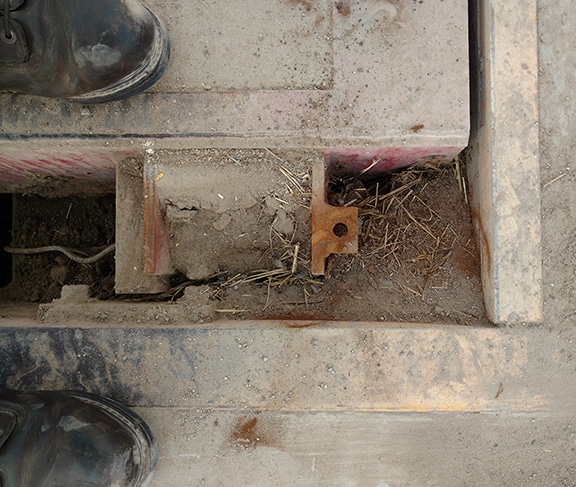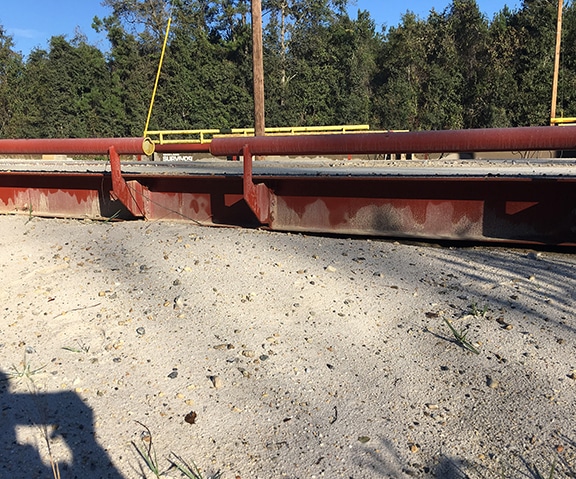 Problem:
Mud, sand, or debris is piling up underneath or around your scale.
Solution:
Monitor your scale for mud, sand or debris build up, and hose it down, sweep it off, or shovel it away as needed.
Why it matters
Build up around a scale can severely affect its ability to display true weight.
From mud caked crevices to sand & soil lodged underneath, foreign debris causes major problems. Scales need to be able to move freely in order to display correct weight.
If your scale can't bend or move as it needs to, it may display inaccurate weight, which could lead to you losing money.
In addition to the revenue loss, underloading or overloading trucks can cause serious safety hazards.
Problem:
Your scale is frozen solid.
Solution:
Remove mud or other debris from the top of, in the crevices of, or underneath your scale, so that it does not make contact with the platform. Ensure all drains are cleared & in good working order to prevent sitting water.
Why it matters
If mud, debris or water freezes in the crevices of your equipment, your scale could freeze in place, rendering it unable to work as intended.
Do not use fast de-icer products, as this could damage your scale.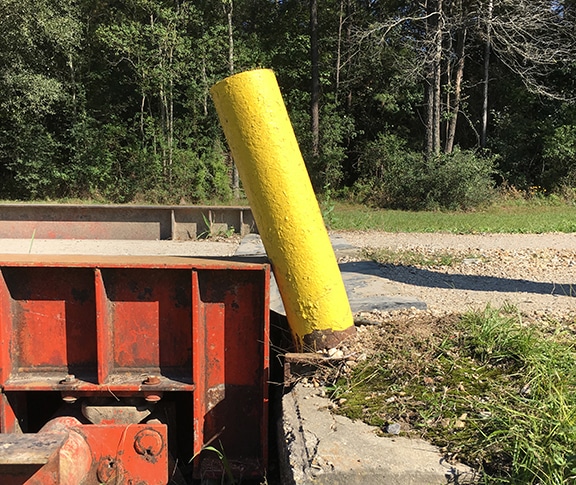 Problem:
Wind damage has caused debris to fall into your scale.
Solution:
Remove all debris, repair bent guide rails & repair physical wear as soon as possible.
Why it matters
The wind could cause debris to fly into, on top of, or underneath your scale.
In the picture to the left, a guide rail has been knocked into the scale. A leaning guide rail could be pushing on the scale, adding weight and producing inaccurate weighments.
Problem:
There is snow covering your scale. 
Solution:
Use a snow shovel to remove snow from your scale.
Why it matters
Do not use a snow plow, as this could severely damage your scale & make it unfit for future use.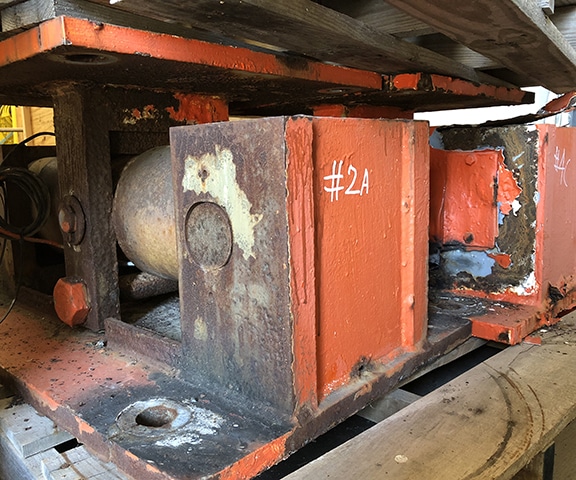 Problem:
Your scale is corroded.
Solution:
Regularly grease all mechanical connections to prevent corrosion & replace all worn T-belting to increase the life of your scale.
Why it matters
Corrosion affects conductivity and structural integrity. If ground points are corroded, they will not be as useful in protecting your scale from lightning risks. Corrosion could also lead to rust & breakdown over time, reducing the life of your scale.
How to tell if it's too late for preventative scale maintenance
Sometimes customers delay or skip scale maintenance in an effort to reduce costs. This strategy is flawed because in the long run, improper scale care will cost you much more in repairs or replacement components than regularly scheduled maintenance would have.
For any of these major problems, it's time to call in the experts at Michelli:
Scale is displaying "error" or dashes
Scale is frozen under water
Scale weight fluctuates more than 40 lbs
Scale will not return to zero
If you experience any of these issues, please call Michelli as soon as possible. Our experienced service team can assess the situation & determine if repair is possible. 
Michelli is the weighing & measurement partner you can trust
Once the damage is done, it's time to call someone you can trust for repairs. The Michelli service team has expert weighing & measurement technicians based out of 22 locations, across 10 states. We provide service to Washington, Oregon, California, Nevada, Arizona, Texas, Louisiana, Arkansas, Oklahoma, Tennessee, Mississippi, Alabama & Florida.
Call Michelli, the team you can count on to get your scale back up & running.
If your scale is beyond repair, our experts will be honest with you. Your service technician will walk you through part replacement if that is an option, or advise you on the replacement of the entire unit. If replacement is more cost effective than repair, the Michelli team can help you find the right equipment for both your environment & your budget.