In order to prevent truck scale damage this Winter, it's imperative for operators to take action as early as possible. Winter weather can wreak havoc on mechanical and electrical equipment, but performing simple preventative measures can make a huge difference. Michelli Weighing & Measurement has locations throughout 11 states in the Western & Southern United States, so our customers experience widely varying Winter weather conditions. While some regions experience heavy snow, other areas may only experience the occasional rain and mild freeze. Regardless of the extremity of the weather conditions in an area, all operators should take action ahead of time to prevent truck scale damage.
Thorough cleaning helps prevent truck scale damage
Clean your scale thoroughly, and pay special attention to the area underneath the truck scale where dirt tends to accumulate. Oftentimes, it rains before a freeze, turning any built up dirt beneath the scale into mud. Upon freezing, the water in this mud expands, which can cause multiple issues with the truck scale. For example, the truck scale may suddenly begin producing inaccurate weighments, as the scale deck is unable to move freely. After a freeze, it is common for Michelli Weighing & Measurement technicians to be called out to customer sites for inaccurate scales, only to find mud and ice between the scale deck & approach or under the deck & load cells. This mud and ice mixture restricts the scale, which causes discrepancies in the weighment.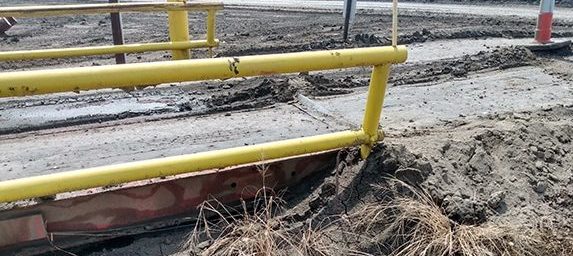 ​It's much easier to prevent this issue than to correct it. Once the mud freezes, it is incredibly difficult to remove. First, users need to melt the mud, which can be difficult when temperatures remain low. It could take an entire day to get the mud to thaw before it can be removed. Meanwhile, the truck scale is out of commission until the mud thaws, causing loss of money and productivity. Keeping a scale clean is always important, and can greatly affect accuracy, but it's even more critical to prevent truck scale damage during freezing temperatures.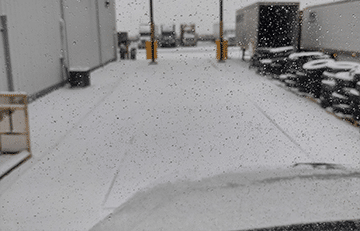 Preventing truck scale damage caused by snow
In certain parts of the country, snow is another common Winter weather occurrence that affects scales. Unfortunately, there is not much operators can do to prevent truck scale damage from snow. However, it is important to remove snow from the truck scale as soon as it is safely possible. We do not recommend using a snow plow to remove snow from a truck scale. Instead, use a snow shovel. Also, do not use salt to de-ice a truck scale. Salt is corrosive and could cause long term damage to the scale. Afterward, grease all mechanical conections & replace any worn T-belting to prevent truck scale damage.
How to prevent weight indicator damage
People tend to forget about protecting weight indicators during the Winter. However, user manuals typically list a recommended operating temperature range for indicators. The operating range for scale indicators used in legal-for-trade applications is typically around 14° F-104° F. The standard operating range for weight indicators used in non-legal-for-trade operations is around 14° F-122° F.
Unattended truck scales and other applications where the weight indicator may be exposed to the elements could be particularly at risk to damage caused by Winter weather. In order to prevent truck scale damage in areas where Winter temperatures tend to fall below 14°F, weight indicators should be installed within heated enclosures or inside of temperature-controlled scale houses to protect them from damage.
Let Us Help Keep Your Truck Scale in Great Working Order
Michelli Weighing & Measurement offers preventative maintenance service agreements to ensure that your scales and measurement equipment remain accurate. Preventative maintenance visits also allow our scale service experts to identify any potential issues before they become major problems. To learn more, contact your local Michelli Weighing & Measurement location today.