Why is Buying a Scale Online Risky?
Buying a scale online may seem like a great idea in today's world. Customers want to sort & compare options instantly, then have the product shipped directly to their door without ever picking up the phone. While this approach may be fine for purchasing commodities, buying weighing & measurement equipment online can be risky.
Scales & other types of measurement equipment are designed to be used in specific environments. For example, load cells in washdown scales are hermetically sealed to prevent moisture damage. It's always best to work with a professional to determine the best type of equipment for your application. Websites are great for commodities, but not for equipment that contributes to pricing, quality or other product attributes.
Also, online shoppers sometimes base their decisions solely on price. This could actually lead to a much higher price tag than anticipated after figuring in set up costs, replacement parts, or repairs. Here are some factors to consider before clicking "Add to Cart".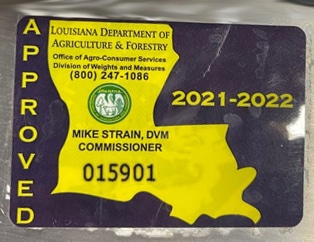 ​Consider Regulatory Requirements
Is NTEP Certification Required?
Will the scale be used to sell goods? If so, it needs to be NTEP certified as "legal-for-trade" and registered with the state. It's up to the operator to arrange for a state representative to visit the site, inspect the scale & apply the state "approved" seal if you buy a scale online. If a scale used to sell goods is being used without the state approved seal, the operator could incur heavy regulatory fees.
What happens if the scale does not weigh correctly? If the state inspector finds that the scale is not producing accurate weighments, he/she will apply a rejected sticker. The operator will then need to arrange for a local weighing & measurement equipment service provider to visit & calibrate the scale. Then, the operator will need to arrange for the state inspector to visit and inspect the scale a second time.
When customers purchase equipment from Michelli Weighing & Measurement, the equipment will be installed ready to weigh. The Michelli team also registers the scale with the state on behalf of our customers, so the state inspection has already been arranged prior to the equipment being released to the customer or installed on-site.
Consider Composition & Durability
What IP Rating is Required?
Will this weighing or measurement equipment be used in an application that requires pressurized washdown? If so, your equipment will require an IP 69k rating to survive. Maybe a scale is going to be dunked under water periodically. In that case, it should be rated at least IP67, but IP68 would be best.
IP ratings help users determine which equipment or scales to buy by describing which type of environment the equipment can withstand. A bench scale that is rated IP69K may have an indicator that is rated IP62. In that situation, the operator could use pressurized force to wash the scale, but he/she should remove the indicator to ensure it wasn't damaged in the process. In a perfect world, both the scale & indicator would have the same IP rating so that no special activities would be required to clean the equipment.
This is something that is typically addressed by the Account Managers at Michelli Weighing & Measurement when they are working to match a customer with the appropriate equipment. Getting equipment with the correct IP rating for the environment helps minimize damage down the road. You can learn more about IP Ratings in our blog post Intrinsically safe, explosion proof & IP ratings…. What does it all mean?
Consider the Total Cost of Ownership Before Buying A Scale Online
Oftentimes the cheaper scales & measurement equipment are designed to be "throw away" units, meaning repairs are not possible. One of the main reasons for this is because replacement parts are not available. Buying a scale online from an unknown manufacturer may cost less upfront than one manufactured by a reputable company & sold by an authorized distributor. However, that cheap scale may require replacement after a month of use. With proper preventative maintenance, a high quality scale can function for years to come.
If replacement parts for the poor quality scale are available, someone has to do the digging to find them. Someone also has to pay to have the parts shipped, and for those parts to be installed. Those costs start to add up and soon enough, the cost of the poor quality equipment has far surpassed the cost of the higher quality equipment.
Doesn't it make more sense to spend more upfront to save money in the long run? Not to mention, if poor quality equipment breaks down, operations could be forced to halt until a replacement unit is installed. In that case, not only does the user incur the repeated purchase price, but also the cost of unscheduled downtime.
Consider the Risks of Purchasing Used Weighing & Measurement Equipment Online
There is a very high risk associated with purchasing used equipment online. For example, let's consider the owner of an aggregates company purchased a used truck scale online from another business for $20,000. To get that truck scale delivered to his aggregate yard might cost an additional $10,000. To have concrete approach & exit ramps installed may cost another $5,000, plus the time involved in finding a service provider. Next, the aggregate yard owner would need to find a weighing & measurement equipment service provider to calibrate & inspect the scale before registering it with the state.
During that inspection, the service technicians might realize that the scale is weighing incorrectly due to a bad load cell & faulty wiring. They may also point out that the scale is missing bolts, side rails, or other components required to get an NTEP Certified "legal-for-trade" state approval. In addition to the service fees for calibration of the scale, the aggregate yard owner now also needs to purchase replacement parts & have them installed. By the time the scale has been properly installed and the state has given the seal of approval, the aggregate yard owner may have spent $50,000 instead of $20,000, plus countless hours in labor and lost profits due to downtime.
A website can't fix your scale if problems arise. Our team can.
Michelli Weighing & Measurement offers expertise & convenience. Measurement equipment is highly specialized, and it's easy to purchase the wrong equipment if you don't fully understand the specifications. Our account managers are product specialists, ready to help match you with the right weighing & measurement equipment based on your application, your environment & your budget. Plus, we care about our relationships and customer satisfaction. Buying a scale online is a transaction, and a website doesn't care about your future relationship.
The Michelli service team is made up of experts who are fully trained in proper scale maintenance. With a preventative maintenance service agreement, you can rest assured that your equipment is in good hands. Our team will help you get the longest useful life out of your equipment to maximize your investment. Michelli Weighing & Measurement service technicians can also provide advice to help you increase efficiency & productivity. Our service team specializes in helping our customers use weighing & measurement solutions to solve problems in quality control, packaging, automation & more.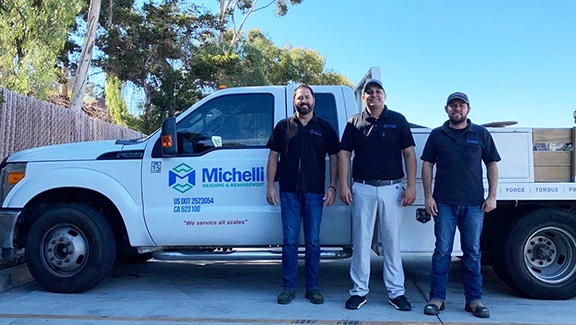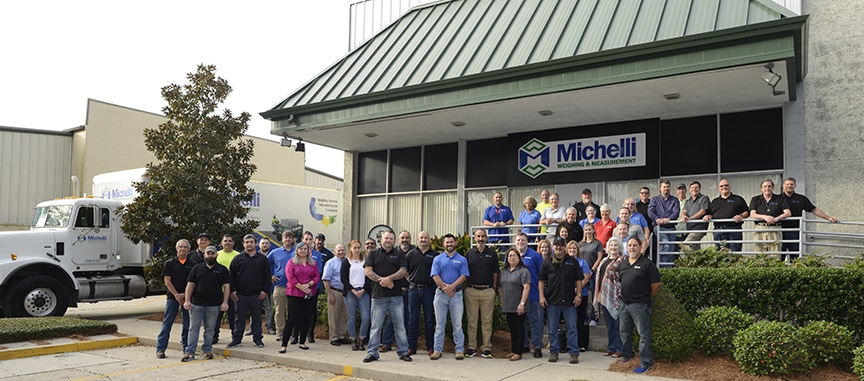 Let us help you get it right the first time.
The Michelli Weighing & Measurement team can help you find the right equipment for your application, environment & your budget. Don't trust a website without a service provider, trust the experts.