What is a Bulk Weigher System?
A bulk weigher system is one that is used to measure bulk material as it flows freely into a bin or container, such as a hopper. This type of weighing system can be customized in many ways, depending on the application for which it is utilized. For example, a bulk weigher system could be used in a batching operation to capture weights for different ingredients to ensure quality control. Let's examine another bulk weigher system. The Dockmate is a legal-for-trade, automatic bulk weigher system designed to be used in bulk seafood unloading, batching, packaging & tracking operations. 
​How does the Dockmate Bulk Weigher System Work?
The Dockmate bulk weigher system uses a state-of-the-art scale & controller, which can be used with an existing conveyor system, to fill a hopper with product until the desired weight is reached. Once the target weight is reached, Dockmate automatically stops the conveyor so that no more product can enter the hopper. The product in the hopper is then released into a container for transport, or is fed onto another conveyor for packaging.
The Dockmate bulk weigher system also tracks & categorizes the total amount of product. This enables users to print the totals for each boat after it is unloaded, along with a total daily summary for all boats. These features are typically used to pay fisherman the correct amount for each type of product. For example, one fisherman may unload 500 lbs of shrimp, worth $1 per pound. The next fisherman may unload 1,000 lbs of redfish, worth $3 per pound. The Dockmate can print tickets after each vessel is unloaded to ensure that each fisherman is paid the correct amount. Then, at the end of the day, the operator can print a daily report that shows how many pounds of shrimp, redfish, and any other product categories were purchased, and at what rate.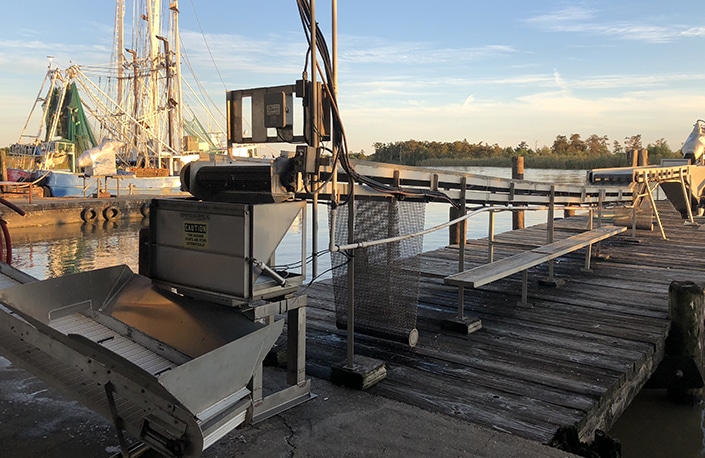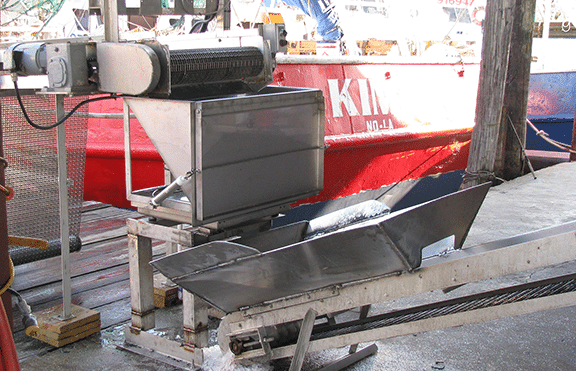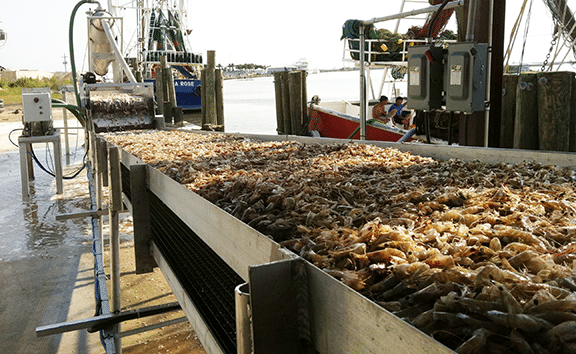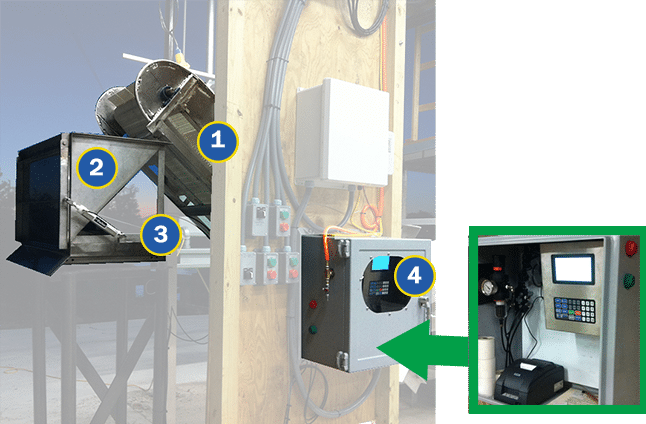 Dockmate Bulk Weigher Feature Diagram
1. Dockmate works with an existing conveyor
2. Stainless steel hopper collects bulk material
3. Legal-for-trade platform scale determines when hopper reaches target weight, then stops conveyor belt
4. Lockable cabinet contains state-of-the-art scale, controller & printer for tickets & reports while protecting this equipment from the elements
Dockmate Bulk Weigher System Enables Enhanced Data Reporting & Storage
At Michelli Weighing & Measurement, bulk weigher systems can be customized for individual customers to broaden their data capabilities. For example, Dockmate users need access to multiple types of reports throughout the day. Users also need that data to be protected against power failures, which can occur at any time on docks, where the Dockmate typically operates.
Printable reports enable effortless data tracking
Users can print a summary for each boat after unloading, which includes the product totals, categorized by size. Operators also have the option to print a daily total report. The daily total includes a list of product totals for each size, and a list of all of the boats that contributed to those daily totals.
Built-in flash memory prevents data loss
Dockmate retains all totals, setups & the current state of operation in built-in flash memory so data is not lost in the event of a power failure. If power fails while the conveyor is running, it will start up again in pause mode.
Other Bulk Weigher Systems
The Dockmate is one of many custom bulk weigher systems Michelli Weighing & Measurement has produced over the years. Weighing systems can be used to record specific data, aid in quality control operations, and even enable automation. For example, check out our video of a hopper weighing system that enables automatic supersack filling: How to Use a Scale to Automate Filling Operations. Our team is here to show you what measurement can do, and how measurement equipment can help make your operations run more efficiently. In fact, our mission is to provide our customers with comprehensive service & high-quality equipment that offers each of them an easier, more efficient way to perform their job functions, through the use of weighing & measurement technology. We are here to help develop weighing systems that enable our customers to find better ways to perform operations.
Learn about other types of weighing systems in some of our past posts:
Could a Bulk Weigher System Help You Increase Efficiency?
Contact our experts today to talk through your application. We can recommend ways to utilize weighing & measurement equipment to increase efficiency, enable automation and more.
Call or email your nearest Michelli Weighing & Measurement location to speak to a local service expert near you.